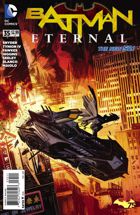 BATMAN ETERNAL #35
Tytuł historii: Out of the Control
W sprzedaży od: 03.12.2014 (USA)
Scenariusz: Scott Snyder, James Tynion IV, Ray Fawkes, Kyle Higgins i Tim Seeley
Rysunki: Fernando Blanco
Okładka: Tommy Lee Edwards
Kolor: Marcelo Maiola
Liternictwo: Steve Wands
Ilość stron: 32
Twoja ocena:

GD Star Rating
loading...
Wydarzenia z BATMAN ETERNAL zmieniły świat Batmana – zajrzyj tu by zobaczyć nowy porządek świata! Trzeci akt rozpoczyna się od mocnego uderzenia, kiedy policja Gotham City dokonuje niemożliwego – pobili Batmana!
Dwa tygodniu po unieszkodliwieniu Husha. Bruce spotyka się z Luciusem, który wyjaśnia mu, że jego sytuacja finansowa jest naprawdę zła. Konta zostały zablokowane a nieruchomości zajęte. Co gorsza działalność Wayne Enterprises związana ze wspieraniem Batmana została teraz przejęta przez komisarza Barda i to on ma dostęp do całego sprzętu oraz do Foxa.
Hush został zamknięty w specjalnej celi w jaskini, a cała Wayne Manor zamieniona została w Arkham Manor.
Podczas rozmowy telefonicznej z Vicki, Jason nie chce zdradzać jej szczegółów swoich planów, które zbliżają się do końca. Nie wie natomiast, że dziennikarka udała się do Detroit by zbadać jego przeszłość. Na miejscu dowiaduje się, Barda stracił wszystko, na czym mu zależało przez miejscową wersję Batmana.
Z pomocą Luciusa, Jason przygotowuje pułapkę na Batmana. Mając dostęp do zasobów Wayne Enterprises udaje mu się namierzyć Batmobil oraz z łatwością przejąć nad nim kontrolę, co tylko oznacza wielkie kłopoty dla Batmana.
Całe te przejęcie Wayne Enterprises i finansów Bruce'a uważam za nietrafiony pomysł. Jedyne, co dobrego z tego może wyniknąć to rezygnacja z Batman Inc. Jednak by przekonać się czy do tego dojdzie będziemy musieli przebrnąć jeszcze przez kilkanaście numerów
Batman Eternal
.
Za sprawą rysunków Fernando Blanco i Marcelo Maioli mamy naprawdę świetnie zilustrowane sceny akcji i pościg z udziałem Batmobila. Jednak na nic to się zdaje, kiedy Batman, wiedząc że jest to pułapka i znając możliwości przeciwnika, pcha się w sam jej środek i na dodatek nie ma nad niczym kontroli. Nie najlepszy z niego detektyw. Lepiej w tej kwestii spisuje się Vicki Vale, która sprawdza przeszłość Barda, który najwyraźniej ma poważny uraz do zamaskowanych bohaterów. Oczywiście żadnych szczegółów jeszcze nie poznajemy.
Niektóre pomysły scenarzystów mają potencjał inne zaś skutecznie mogą zniechęcić do sięgnięcia po kolejny numer. W tym przypadku bliżej jest do tej drugiej opcji.
Trzeci akt Batman Eternal rozpoczyna się od mocnego uderzenia, ale jeżeli już sam wyjściowy motyw nie jest akceptowalny, to ciężko spodziewać się czegoś dobrego. Co gorsza cały czas nie ma żadnych tropów w sprawie odpowiedzialnego za to wszystko łotra.
Ocena: 3 nietoperki

---