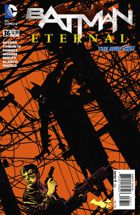 BATMAN ETERNAL #36
Tytuł historii: Collateral Damage
W sprzedaży od: 10.12.2014 (USA)
Scenariusz: Scott Snyder, James Tynion IV, Ray Fawkes, Kyle Higgins i Tim Seeley
Rysunki: Fernando Blanco
Okładka: Tommy Lee Edwards
Kolor: Marcelo Maiola
Liternictwo: Steve Wands
Ilość stron: 32
Twoja ocena:

GD Star Rating
loading...
Batmobil płonie, a wrogowie Batmana odnieśli zwycięstwo… ale reporterka Vicki Vale poznała sekret, który może wszystko zmienić!
Harper Row w kryjówce Red Robina czuwa nad swoim bratem, który cały czas jest zainfekowany nanobotami. Tim nie ma jednak teraz czasu by zajmować się sprawą Cullena, gdyż najważniejsze jest ocalenie Batmana, który jest w poważnych tarapatach.
Julia zastanawia się co zrobiłby w tej sytuacji jej ojciec i wtedy wprowadza do komputera specjalny kod. Batmobil wybucha i komisarz Bard stwierdza, że tak się załatwia samozwańczych strażników.
W Detroit Vicki dowiaduje się, że podczas jednej z akcji partnerka Jasona i jego ukochana, Jodie zginęła, a wszystka przez wtrącenie się dzieciaka, który był fanem Batmana i chciał działać tak jak on. Za wszystko Bard obwiniał Batmana z Gotham City, który z poparciem Gordona zachęcał innych do takich działań i wtedy na jego drodze pojawił się Tommy Elliot.
Po poznaniu prawdy o Jasonie, Vicki nie ma zamiaru dłużej się z nim spotykać i nie chce być przy nim, kiedy Batman przyjdzie dać mu nauczkę.
Reporterka trafnie przywidziała przyszłe wydarzenia. Tuż po zakończeniu rozmowy telefonicznej Jason zostaje uderzony przez Batmana. Policjant cały czas uważa, że postąpił słusznie, ale Nietoperz wie, że przez jego działania wielu funkcjonariuszy było zajętych innymi sprawami i nie strzegli miasta tak ja powinni. Na dodatek teraz Jason musi się także obawiać Batgirl, Red Robina i Red Hooda, którzy w razie konieczności "porozmawiają" z nim.
W jaskini po początkowej radości, że dzięki przywidującemu wszystko Alfredowi udało się uratować Batmana, bohaterowie postanawiają wreszcie odkryć, kto tak naprawdę pociąga za sznurki.
Gdzie indziej, Riddler jest niepocieszony, że Batman jeszcze nie poskładał wszystkich kawałków układanki i postanawia zrobić coś co, nakieruje bohatera na właściwe tory.
Chociaż kilka rzeczy się wyjaśnia, to tak naprawdę zaskoczeń brak. To, że Batman przeżyje było jasne. Nie była to jednak ani jego zasługa, ani reszty bohaterów. Po prostu Alfred za w czasu przygotował Batmobil na taką ewentualność. Jak dokładnie działają te awaryjne procedury, tego się nie dowiadujemy.
Poznajemy za to motywację Barda do zniszczenia Batmana. Już w poprzednim numerze było to wyraźnie zasugerowane, że jego ukochana zginęła. Nie jest to najoryginalniejszy pomysł i po wcześniejszych poczynaniach bohatera oczekiwałoby się czegoś lepszego. Nie wiemy też czy spotkanie Husha i Jasona było czystym przypadkiem, czy też ktoś to ustawił.
Jakby ktoś zapomniał, że kiedyś dawano, dawno temu w Batman Eternal był wątek z nanobatami, to z tego numeru dowie się, że cały czas one są. Jednak czy otrzymujemy coś nowego, nie.
Hush okazał się kolejnym pionkiem, a Batman, co sam stwierdza nie ma pojęcia co się dzieje. Już za długo to wszystko trwa i aby działania Riddlera ożywiły tę serię, bo taka ilość niewiadomych była dopuszczalna na początku serii, a teraz już przydałaby się jakieś konkretne odpowiedzi.
Ocena: 3,5 nietoperka

---