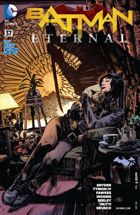 BATMAN ETERNAL #37
Tytuł historii: The Underworld
W sprzedaży od: 17.12.2014 (USA)
Scenariusz: Scott Snyder, James Tynion IV, Ray Fawkes, Kyle Higgins i Tim Seeley
Rysunki: Andrea Mutti
Okładka: Tommy Lee Edwards
Kolor: Giulia Brusco
Liternictwo: Taylor Esposito
Ilość stron: 32
Twoja ocena:

GD Star Rating
loading...
Tylko Catwoman może teraz pomóc Batmanowi, ale Catwoman od dawna nie ma! Kto ją zastępuje? Kobieta bardziej bezwzględna niż Batman przypuszczał…
Selina Kyle doskonale się odnajduje w swoim nocnym klubie. Nie wszyscy jednak akceptują jej osobę w roli szefa światka przestępczego. Ghost Dragons przeprowadzają atak, ale bohaterka potrafi się obronić.
W mieszkaniu Luke'a Foxa, Rory odkrywa, że w łazience jest duch z Arkham Asylum.
Batman koncentruje się na wyłapaniu złoczyńców, którzy uciekli z Arkham Asylum. W poszukiwaniu Bane'a natrafia na ukrywającego się w dokach Killer Croca, ale zostawia go na wolności. Po odejściu bohatera na miejscu pojawia się kobieta w stroju Catwoman, która proponuje Crocowi sposobność do zemsty.
Bane, Mr. Freeze, Clayface, Poison Ivy, Strach na Wróble i Córka Jokera ukrywają się razem w opuszczonej restauracji. Próbują ustalić wspólny plan działania, ale Bane nie ma zamiaru zostać. Dopiero obietnica ze strony Crane'a, że ulepszy formułę venomu sprawia, że zmienia zdanie. W nocy Poison Ivy składa mu inną propozycję. Obiecuje, że sama wprowadzi ulepszenia, bo jest lepszą chemiczką niż Strach na Wróble, jeśli Bane zabierze ją ze sobą.
Złoczyńcy nie zdają sobie jednak sprawy, że są obserwowani przez kamerę zamieszczoną w obroży przechadzają się wokół kota. Selina od razu wykorzystuje nowo zdobytą wiedzę i kontaktuje się z Batmanem.
Po ostatnich wydarzeniach Jason Bard nie może liczyć na przychylność ze strony żadnych gliniarzy, a Luke Fox ma coraz poważniejsze problemy z duchami.
W ostatnim numerze Batman planował zająć się osobą, która jest odpowiedzialna za całe zamieszanie. Czy robi coś w tej sprawie? Nie. Postanawia wyłapać zbiegów z Arkham Asylum. Czy udaje mu się ich namierzyć? Nie. To Selina Kyle podaje ich bohaterowi wręcz na srebrnej tacy. Batman w tej serii coraz mniej przypomina bohatera, którego wszyscy dobrze znają.
W numerze powrócono do formuły, w której mamy kilka osobnych wątków. Niestety, żaden z nich nie wypadł interesująco. Ani kłopoty Seliny, plany złoczyńców, działania Batmana, czy duchy nawiedzające Foxa.
Pod względem treści Batman Eternal #37 prezentuje niski poziom i dotyczy to również warstwy graficznej. Wszyscy bohaterowie nie ważne czy są to postacie kobiece, czy słynni złoczyńcy wyglądają po prostu słabo. Nie ma tu więc żadnych pozytywów.
Ocena: 2,5 nietoperka

---