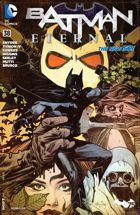 BATMAN ETERNAL #38
Tytuł historii: I'll Scratch Your Back
W sprzedaży od: 24.12.2014 (USA)
Scenariusz: Scott Snyder, James Tynion IV, Ray Fawkes, Kyle Higgins i Tim Seeley
Rysunki: Andrea Mutti
Okładka: Tommy Lee Edwards
Kolor: Giulia Brusco
Liternictwo: John J. Hill
Ilość stron: 32
Twoja ocena:

GD Star Rating
loading...
Uchodźcy z Arkham Asylum sądzą, że razem są bezpieczni – ale nie jeśli pośród nich jest Bane!
Batman udaje się od Willowwod Home for Children, gdzie ukrywają się złoczyńcy.
Mimo propozycji od Leo, Jim nie zamierza zrzucić kilku kilogramów i uciec z więzienia. Cały czas wierzy w system sprawiedliwości i Gotham.
Batman w pierwszej kolejności rozprawia się z Córką Jokera. Kiedy o obecności bohatera orientuje się Ivy natychmiast ucieka wraz z Bane'em. W podziemiach spotyka ich niespodziewany przeciwnik, Killer Croc. Waylon jest przekonany, że walcząc w kanałach zdoła wyrównać rachunki. Po odcięciu Bane'a od dopływu venomu i zranieniu go triumfuje, ale nie zabija swojego przeciwnika tylko zostawia go Batmanowi.
Chociaż Strach na Wróble i Clayface mają zakładników, to i tak Batman ich unieszkodliwia. Crane zdaje sobie sprawę, że te starcie jest przegrane, ale mimo to uzmysławia Batmanowi, że Riddler pewnie już rozgryzł całą intrygę, a największy detektyw świata jeszcze nie.
Na spotkaniu światka przestępczego Selina oświadcza, że problem złoczyńców pokroju Stracha na Wróble, Mr. Freeze'a, Clayface'a i Bane'a został rozwiązany. Teraz Gotham należy do swoich prawowitych władców. Selina, nowa królowa Gotham może spać spokojnie, bo wie, że do grona jej wiernych poddanych zalicza się Croc.
Nie mając innego wyjścia Jason Bard odwiedza Gordona. Wie jak wszystko powstrzymać ale potrzebuje pomocy. Niestety, żeby coś zdziałać Jim musi wydostać się z Blackgate.
Kolejny rozczarowujący numer. Cała historia jest po prostu nudna. Wydawać by się mogło, że Batman starający się złapać słynnych łotrów to będzie coś godnego uwagi. Tak jednak nie jest, w czym swoją zasługą ma także warstwa graficzna, która nie pasuje do dynamicznych scen akcji, a poszczególne postacie wydają się momentami niedopracowane. Interesujący i to nie tylko ze względu na końcowy wynik, mógł być pojedynek Croca z Bane'em, ale nie jest.
Zmienione oblicze Barda, który z knującego i żądnego zemsty na zamaskowanych bohaterach policjanta stał się kulawym gliną, który nic nie może zrobić, rozczarowuje. Czy naprawdę Jason działał tak sprawnie tylko, dlatego, że miał wsparcie Husha?
Kolejny numer zapowiada wkroczenie do gry Riddlera i aby pomogło to nadać serii jakieś większe tempo, bo obecnie nie ma w niej nic godnego uwagi.
Ocena: 2,5 nietoperka

---