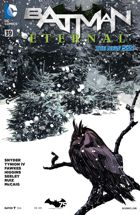 BATMAN ETERNAL #39
Tytuł historii: The Right Question
W sprzedaży od: 31.12.2014 (USA)
Scenariusz: Scott Snyder, James Tynion IV, Ray Fawkes, Kyle Higgins i Tim Seeley
Rysunki: Felix Ruiz
Okładka: Tommy Lee Edwards
Kolor: Dave McCaig
Liternictwo: John J. Hill
Ilość stron: 32
Twoja ocena:

GD Star Rating
loading...
Ktoś poskładał wszystkie kawałki układanki i poznał spisek mający na celu zniszczenie Gotham City… ale nie Batman! Riddler wie wszystko – i nigdy tego nie zdradzi!
Timowi udaje się złapać szyfr Riddlera, dzięki czemu Bruce domyśla się, że odpowiedzi trzeba szukać w opuszczonym hotelu w górach.
Podczas transportu do Blackgate Mr. Freeze zostaje odbity. Ten sam los spotyka także innych słynnych złoczyńców. Ktoś chciał mieć pewność, że przyjdą na spotkanie, a nie każdy przyjąłby tradycyjne zaproszenie jak Selina Kyle. Jak się okazuje złoczyńcy otrzymali dostęp do różnego sprzętu Batmana i mogą go dowolnie wykorzystać.
Vicki Vale nie jest zbyt zachwycona perspektywą pisania o Jasonie Bardzie, ale jest przede wszystkim reporterką. Dlatego przygotowuje stosowne artykuły.
W górach Batman musi grać w gierki Riddlera, a nie ma na to czasu. Edward opowiada mu historię o mnichu i echu, ale bohater domaga się konkretnych odpowiedzi, na co złoczyńca stwierdza, że już takiej udzielił. Bruce próbuje siłowych argumentów, ale wtedy Riddler odpala bomby, który wywołują lawinę.
W redakcji Gotham Gazette zjawia się uzbrojony Patrick, który strzela do Warrena, w chwili kiedy ten i Vicki właśnie zaczynali dostrzegać do czego prowadzą ostatnie działania w mieście.
Jeśli liczyliście, że w 39. numerze dojdzie do przełomowych momentów, to byliście w błędzie. Co prawda Riddler się pojawił, ale rzecz jasna niczego wprost nie zdradził. Gdyby to był jeden z pierwszych numerów, wtedy taka perspektywa analizy zagadek mogłaby być zabawna, ale teraz jest to tylko irytujące. Cała historia jest zbyt długo przeciągana i już nawet interesujące elementy, czy też zaskakujące, jak ten z końcówki numeru, nie robią takiego wrażenia jak powinny.
Aktualne wskazówki dotyczące tajemniczego przeciwnika Batmana wydają się wskazywać na Lincolna Marcha, ale czy jest to właściwa teoria, tego dowiemy się pewnie dopiero w ostatnim numerze. Twórcy mają coraz mniej czasu by zamknąć zaczęte wątki, a chyba jeszcze pamięta o nanobotach, Harper Row, który ma stać się bohaterką, czy też o Spoiler.
Ocena: 3 nietoperki

---