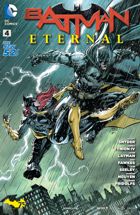 BATMAN ETERNAL #4
Tytuł historii: Injustice for All
W sprzedaży od: 30.04.2014 (USA)
Scenariusz: Scott Snyder, James Tynion IV, Ray Fawkes, John Layman i Tim Seeley
Rysunki: Dustin Nguyen
Okładka: Jason Fabok, Brad Anderson
Kolor: John Kalisz
Tusz: Derek Fridolfs
Liternictwo: Rob Leigh
Ilość stron: 32
Twoja ocena:

GD Star Rating
loading...
Batman walczy z Batgirl, kiedy kłopoty Jima Gordona przyjmują jeszcze gorszy obrót.
Barbara Gordon cały czas nie może uwierzyć, że jej ojca oskarżają o nieumyślne spowodowanie śmierci 162 osób, oraz olbrzymich zniszczeń. Co gorsza ze względu na współpracę Jima i Batmana sędzia nie zgadza się na kaucje i na czas procesu każe go zamknąć w wiezieniu Blackgate.
Nie mogąc pogodzić się z decyzją sądu nocami Batgirl wyładowuje agresje na zbirach. Jest tak wściekła, że nawet uderza Batmana i początkowo odrzuca jego pomoc.
Stephanie Brown wreszcie udaje się dodzwonić do matki, ale ta nie wierzy rozhisteryzowanej córce, która twierdzi, że jej ojciec chce ją zabić. Mimo wszystko zapewnia córkę, że jej pomoże, ale gdy tylko kończy z nią rozmawiać kontaktuje się z Cluemasterem.
Na komisariacie Jason Bard ze względu na ostatnie wydarzenia chce utworzyć specjalny oddział do walki z gangami, ale Forbes zdecydowanie tego zabrania, ponownie dodając, że priorytetem jest Batman.
Mroczny Rycerz wdziera się do apartamentu Falcone'a i bez problemów unieszkodliwia jego ochroniarzy. Carmine nie przypomina sobie żadnego Dereka Grady'ego, wyjaśnia również bohaterowi, że kiedyś Gotham było jego miastem i że powrócił by dokończyć pewne sprawy.
Po powrocie do jaskini Bruce zauważa, że Barbara, którą sprowadził by trochę ochłonęła, w ogóle nie myśli o odpoczynku, tylko analizuje wszystkie fakty związane ze sprawą jej ojca. Dlatego jak pojawia się nikły cień, że w całą sprawę może być zamieszany Gonzolo Dominguez, który opuścił stację tuż przed wypadkiem i jest powiązany z kartelami narkotykowymi, od razu postanawia działać.
Gordon zostaje przewieziony do Blackgate. Jednak nie ma co liczyć na bezpieczną celę, gdyż naczelnikiem więzienia jest policjantka, którą kiedyś wydalił z policji. Dlatego Jim trafia do celi obok niebezpiecznych złoczyńców, których pomógł zapuszkować, a kiedy jakiś glina trafia do Blackgate to już praktycznie otrzymuje wyrok śmierci.
Czwarty numer
Batman Eternal
to zmiana rysownika. Jasona Fabooka zastąpił Dustin Nguyen, który prezentuje odmienny styl. Dlatego teraz Gotham mimo zaistniałej sytuacji wydaje się bardziej przyjaźniejszym miastem niż w poprzednich numerach. Bardziej kreskówkowy styl Nguyena sprawia, że wcześniejsza atmosfera umyka. Warto odnotować fakt, że autorem scenariusza jest tu głównie John Layman (we wcześniejszych numerach był to duet Snyder i Tynion IV).
W tym numerze akcja jest już spokojniejsza bez większych niespodzianek, czy niespodziewanych gości. Zaskoczeniem jest tylko zachowanie matki Steph. Nie ma już żadnych złudzeń, sytuacja Spoiler jest beznadziejna. Nie lepiej ma się też Jim Gordon, który sam siebie obwinia o zaistniałą tragedię. Sytuacja z komisarzem sprawia, że i Batgirl traci nad sobą kontrolę i czepia się jakby się wydawało mało istotnych tropów.
Pojawiają się nowe tropy, ale żadnych przełomów nie ma. Nawet rozmowna Batmana z Falcone'em nie prowadzi jak na razie do niczego, a Bruce jeszcze nie zdaje sobie sprawy z kim Rzymianin współpracuje. Jeśli więc bohater chciał się czegoś dowiedzieć od słynnego mafiozo, to jego rozmowa nie przypominała słynnych Nietoperzowych przesłuchać, ale zwykłą pogawędkę.
Po miesiącu z nową serią można na chwilę obecną stwierdzić, że twórcy wystartowali z wysokiego poziomu i cały czas utrzymują się w jego okolicy. Batman Eternal ma wiele wątków, w wyniku czego akcja nie rozwija się tak szybko jakby chcieli tego czytelnicy, ale co najważniejsze wszystkie fragmenty wciągają i po prostu chce się już sięgnąć po kolejny numer. Dobrze więc, że ma do czynienia z cotygodniową serią.
Ocena: 4 nietoperki

---