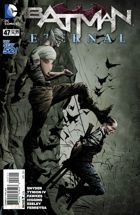 BATMAN ETERNAL #47
Tytuł historii: The Next Level
W sprzedaży od: 25.02.2015 (USA)
Scenariusz: Scott Snyder, James Tynion IV, Ray Fawkes, Kyle Higgins i Tim Seeley
Rysunki: Juan Ferreyra
Okładka: Jae Lee, June Chung
Kolor: Juan Ferreyra
Liternictwo: Steve Wands
Ilość stron: 32
Twoja ocena:

GD Star Rating
loading...
W nowym porządku w Gotham City, Selina Kyle trzyma wszystkie karty … a teraz to mistrzyni wśród szpiegów Julia Pennyworth ma je z odzyskać!
Julia opuszcza jaskinię by spotkać się z Seliną, która próbowała skontaktować się z Batmanem. Chociaż nowa szefowa światka przestępczego nie spodziewała się "sekretarki", to po krótkiej wymianie ciosów wręcza jej dokumenty dotyczące dostaw, które wzbudził jej podejrzenia. Julia przekazuje złe wieści Batmanowi. W związku z zaistniałą sytuacją, kiedy różni złoczyńcy uzyskali dostęp do nieograniczonych środków, zaangażowani zostają też inni członkowie Bat-rodziny.
Strach na Wróble planuje wykorzystać drony by rozprzestrzenić swój gaz, ale przeszkodzić mu w tym postanawia Batwing. Red Robin namierza Clayface'a, a Bluebird Mr Freeze'a. Batgirl udaje się do opuszczonego parku rozrywki, gdzie ukrywa się Córka Jokera. Bane'em postanawia się zająć Jason Todd.
Nagle w jaskini gasną światła. Tajemniczy przeciwnik ponownie daje o sobie znać. Ogłusza Julię i uwalnia Husha.
Stephanie Brown nakłania Cullena, by ten pomógł jej skontaktować się z Vicki Vale.
Julia zostaje wystrzelona podwodną tubą w sam środek miasta, by udowodnić, że przetrwa w piekle jakie rozpętało się w Gotham. Śpieszący na pomoc Batman ma kolejny problem ze sprzętem, kiedy jego Batplane wybucha.
Czy kolejny numer
Batman Eternal
posuwa akcję do przodu? Odrobinę. Znowu Batrodzina wkracza do akcji i teraz każdy z bohaterów będzie walczył z innym złoczyńcą. Można już przewidzieć co zajmie kolejne numery. Tajemniczy przeciwnik cały czas pozostaje w cieniu. Niestety jest nieznany nie tylko Batmanowi, ale czytelnikowi. Cały ten plan złoczyńcy w taki sposób zostaje przedstawiony, że na większość aspektów nie chce się już poświęcać uwagi. Zdecydowanie za długo scenarzyści odwlekają to co najistotniejsze. Jakby tego było mało jeśli już jest coś interesującego to o tym nagle o tym zapominają. O fakcie, że Ra's wykupił Wayne Enterprises można było się spodziewać, że nic więcej nie będzie, ale ile czasu Spoiler i Bluebird potrzebują by przekazać Batmanowi, że złoczyńca stojący za tym wszystkim wygląda jak Bruce Wayne? Co gorsze nic nie zapowiada by seria miała drastycznie podnieść poziom. Mamy dramatyczną końcówkę, ale wiadomo, że Batman nie zginął. Jedyne co dobrego można powiedzieć, to postać Julie, która miała udane spotkanie z Seliną i na pewno jeszcze nie raz pokaże, że doskonale sprawdza się w terenie.
Ocena: 2,5 nietoperka

---