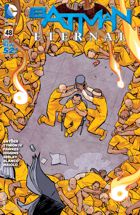 BATMAN ETERNAL #48
Tytuł historii: Level Up
W sprzedaży od: 04.03.2015 (USA)
Scenariusz: Scott Snyder, James Tynion IV, Ray Fawkes, Kyle Higgins i Tim Seeley
Rysunki: Fernando Blanco
Okładka: Cliff Chang
Kolor: Marcelo Maiolo
Liternictwo: John J. Hill
Ilość stron: 32
Twoja ocena:

GD Star Rating
loading...
W tym miesiącu BATMAN ETERNAL: epicka Bat-opowieść trwająca rok zmierza do oszałamiającego końca! Gotham City płonie! Złoczyńcy biegają po ulicach! Bat-technologie zostały uszkodzone! A geniusz stojący za tym wszystkim przystawił nóż do żeber Batmana! Jak Mroczny Rycerz zakończy ten koszmar… i jak to ukształtuje przyszłe oblicze Gotham City?
W rozmowie z burmistrzem Hardym'm Jason Bard próbuje przekonać go o niewinności Gordona, bowiem, żeby uratować miasto potrzebny jest Jim.
Pingwin otrzymuje telefon od tajemniczej osoby, która w zamian za załatwienie Grodna proponuje mu odzyskanie całej fortuny, którą stracił.
Po przejęciu kontroli nad jaskinią Hush unieszkodliwia sprzęty Bat-rodziny, dlatego bohaterowie mają spore problemy podczas walki ze złoczyńcami.
Po katastrofie Batplane'a, Batman pożycza jeden z wojskowych myśliwców.
Spoiler dociera do redakcji Gotham Gazette, gdzie znajduje Vicki Vale. Niepodobna jej się fakt, że reporterka nie ujawniła działań Barda ani nie zainteresowała się historią Signalmana. Steph nie okazji dalej narzekać, gdyż zostaje schwytana przez swojego ojca. Zostawia jednak pendrive dla Vicki.
W więzieniu Blackgate trwają zamieszki, a życie Jima Gordona zależy od łaski Pingwina.
Oczywiście kolejny rozdział
Batman Eternal
w niczym nie przybliża nas do poznania tożsamości głównego rozgrywającego. Jakby mało było starć bohaterów ze złoczyńcami, którzy będą musieli sobie poradzić bez wsparcia technologicznego, to zagrożone jest życie Gordona. Wiadomo, że Jim w sytuacjach kryzysowych uratował miasto, ale czy naprawdę mógłby pokrzyżować plany łotra, którego tożsamości Batman jeszcze nie poznał?
Numer sam w sobie nie jest zły, ale jest to po prostu kolejny zapychacz. Warto odnotować tylko zmianę statusu Spoiler, która wpadła w ręce Cluemastera. Skoro nikt się nie interesował jej wzmianką o "Wayne'ie", to może teraz przyciągnie uwagę Batmana?
Ocena: 2,5 nietoperka

---