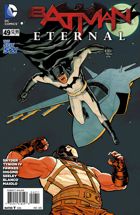 BATMAN ETERNAL #49
Tytuł historii: Last Stand
W sprzedaży od: 11.03.2015 (USA)
Scenariusz: Scott Snyder, James Tynion IV, Ray Fawkes, Kyle Higgins i Tim Seeley
Rysunki: Fernando Blanco
Okładka: Cliff Chiang
Kolor: Marcelo Maiolo
Liternictwo: Steve Wands
Ilość stron: 32
Twoja ocena:

GD Star Rating
loading...
W tym miesiącu BATMAN ETERNAL: epicka Bat-opowieść trwająca rok zmierza do oszałamiającego końca! Gotham City płonie! Złoczyńcy biegają po ulicach! Bat-technologie zostały uszkodzone! A geniusz stojący za tym wszystkim przystawił nóż do żeber Batmana! Jak Mroczny Rycerz zakończy ten koszmar… i jak to ukształtuje przyszłe oblicze Gotham City?
Mimo zaistniałej w Blackgate sytuacji Jim podejmuje ryzykowną decyzję. Rzuca się na Oswalda i zamyka się z nim w jednej z celi i pokazuje, że w razie potrzeby potrafi walczyć.
Hush świetnie się bawi w jaskini utrudniając walkę bohaterom z przeciwnikami. Planuje też wykorzystać Batboat by zatopić jeden ze statków.
Spoiler przy pierwszej okazji wyskakuje z helikoptera na pobliski dach zaznaczając wyraźnie, że nie chce mieć ze swoim ojcem nic wspólnego.
Julia dociera do kryjówki Robina skąd za pomocą komputera próbuje zapobiec planom Husha. Złoczyńca nie ma jednak zamiaru łatwo się poddawać. Jednak pochłonięty nowym problem nie zauważa, że Alfred przy użyciu specjalnego kodu uwalnia się ze celi i następnie go obezwładnia.
Wszyscy bohaterowie odzyskują kontakt radiowy, a z pomocą do walki z Bane'em włącza się i Batman, który nadlatuje myśliwcem.
Z numeracji serii wynikałoby, że zbliżamy się już do końca całej historii, ale tak naprawdę tego kompletnie nie czuć. Bohaterowie cały czas nie uporali się ze swoimi przeciwnikami. Zamiast powoli zacząć wprowadzać i wyjaśniać poczynania głównego łotra, który wszystko zaplanował, cały czas w tym zakresie się nic nie dzieje.
49. numer Batman Eternal można pochwalić za działania Gordona i Alfreda, którzy mimo swojego wieku pokazali, że cały czas są twardzielami i w razie zagrożenia potrafią sobie radzić. Zadziwiające, że też radzi sobie Spoiler, która nie na długo została w rękach ojca. Najpierw wszyscy chcieli ją zabić, a teraz kiedy uciekła i powiedziała, że nie dołączy do ojca nikt nawet nie próbuje jej ścigać.
Kolejne numer Batman Eternal nic nie wnoszący i który serwuje tylko akcję, która jeszcze będzie trwać przez zapewne dwa numery i może w ostatnim coś się wyjaśni, ale bez względu na to co się wydarzy już nic jest w stanie wymazać negatywnych wrażeń pozostawionych przez ostatnie kilkanaście numerów.
Ocena: 2,5 nietoperka

---