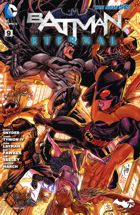 BATMAN ETERNAL #9
Tytuł historii: The Unburied Past
W sprzedaży od: 04.06.2014 (USA)
Scenariusz: Scott Snyder, James Tynion IV, Ray Fawkes, John Layman i Tim Seeley
Rysunki: Guillem March
Okładka: Guillem March i Tomeu Morey
Kolor: Tomeu Morey
Liternictwo: Steve Wands
Ilość stron: 32
Twoja ocena:

GD Star Rating
loading...
Jak co tydzień trwa epicka przygoda Batmana i pojawiają się nowe pytania. W tym numerze dowiedz się czemu Batman jest w Hong Kongu i współpracuje z Mr. Unknown!
Po wyjściu z komisariatu Forbes wsiada do taksówki, ale ku swojemu zaskoczeniu odkrywa, że jego kierowcą jest Roadrunner, który zabiera go na spotkanie z Falcone'm. Gangster nie jest zadowolony, że cały czas zamaskowani bohaterowie niweczą jego plany i na dodatek go okradają. Sprawcą tego zamieszania nie jest jednak Batman, ale Catwoman. Po tym jak Nietoperz zniknął z Gotham, Falcone, jest przekonany, że to nie dlatego, że przestraszył się policji, ale dlatego, że postanowił gdzie innej pokrzyżować mu plany. Teraz jednak priorytetem dla Forbesa ma być Catwoman, która ma z gangsterem pewne niedokończone sprawy.
W Hong Kongu Batman walczy z Ghost Dragons, w tym starciu nie jest jednak osamotniony bo może liczyć na wsparcie ze strony japońskiego Batmana. Następnie udają się do apartamentu na najwyższym piętrze budynku Wayne Industries, który służy celom Batman Inc. Na miejscu Jiro wyjaśnia jak przebiegła wojna gangów Falcone'a z Shen Fangiem, która niespodziewanie zakończyła się powrotem Carmine'a do Gotham. Batman chce poznać więcej szczegółów i obaj bohaterowie udają się na spotkanie z Fangiem. Po pokonaniu strażników, niespodziewanie na drodze Batmana pojawia się kobieta, która wcześniej obserwowała jak ten przyleciał do Gotham. Nie ma zamiaru pozwolić by Nietoperz pokrzyżował jej plany postawienia przed obliczem sprawiedliwości Fanga. Niestety kiedy walczy z Batmanem niespodziewanie zostaje dźgnięta ostrzem przez Shena. To rozwściecza bohatera, który brutalnie rozprawia się z gangsterem, który zdradza, że cały czas płaci 60% zysków ze swoich operacji dla Falcone'a, który nie przegrał wojny gangów w Hong Kognu, ale po prostu dostał lukratywną okazję by dokończyć niedokończone sprawy w Gotham City.
Tymczasem w Gotham City Catwoman włamuje się do skarbca, gdzie jak się okazuje nie czeka na nią gotówka, ale specjalny oddział policji. Falcone wreszcie ma możliwość wyrównania rachunków z Seliną.
Batman zabiera ranną kobietę ze sobą do Gotham City, a po ustaleniu jak się na naprawdę nazywa od razu kontaktuje się z Alfredem, gdyż ranną agentką jest Julia Pennyworth.
Historia ma swoje dobre momenty, ale nie wszystkie pomysły są warte uwagi. Działania Catwoman, która doskonale się odnalazła podczas wojny gangów są godne uznania. Więcej natomiast spodziewałem się pod wydarzeniach z Hong Kongu. Nie zachwyca mnie żadna historia związana z Batman Inc. a w tym wypadku należy się zastanowić co japoński Batman robi jakby nie było w Chinach. Potrzebne informacje Batman mógłby zdobyć sam, bo namierzenie gangstera rządzącego miastem nie powinno być dla niego problemem.
Największym zaskoczeniem numeru jest tożsamość agentki, którą widzieliśmy już w poprzednim numerze. Co prawda daje się ona zaskoczyć gangsterowi jak żółtodziób, ale teraz kiedy znamy jej imię i nazwisko, pojawia się więcej pytań. Pewne jest natomiast, że do Bat-rodziny może dołączyć nowa osoba – Julia, która kontynuować będzie tradycję Pennyworthów. Ten wątek zapowiada się naprawdę obiecująco. Przed Kryzysem, była to bowiem córka Alfreda i Mademoiselle Marie. Liczę, że na więcej szczegółów z jej życia nie będziemy musieli długo czekać, bo o ile misja Batmana nie do końca pozwoliła poznać co spowodowało, że Falcone postanowił wrócić do Gotham, to przynajmniej zyskał przypuszczalnie nową sojuszniczkę.
Ocena: 4 nietoperki

---