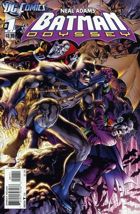 BATMAN: ODYSSEY #1
Tytuł historii: Batman Odyssey, Part 7
Miesiąc wydania (okładka): Grudzień 2011 (USA)
W sprzedaży od: 19.10.2011 (USA)
Scenariusz: Neal Adams
Rysunki: Neal Adams
Okładki: Neal Adams
Kolor: Ginger Karalexas, Cory Adams, Moose Baumann
Tusz: Bill Sienkiewicz, Neal Adams, Paul Neary, Michael Golden
Liternictwo: Ken Lopez
Ilość stron: 32
Twoja ocena:

GD Star Rating
loading...
W końcu do tego doszło: Batman musi zabić lub zostać zabitym. Zagrożenie jest realne i nie może zostać powstrzymane przez człowieka czy bohatera. Żeby to zwalczyć Batman będzie musiał się przenieść do takiego punktu czasu, z którego będzie mógł wyruszyć w odyseje samopoznania do miejsca nieznanego ludzkości. Czy jest to miejsce w którym czeka na niego porażka?
Popijający kawę w jaskini Bruce Wayne wyjaśnia swojemu rozmówcy ostatnie swoje poczynania, związane z Senseiem i jego planem zabicia Ra's al Ghula.
Tymczasem w Arkham Senseia nie jest wstanie zatrzymać żadna przeszkoda.
Po drzemce na twardych skałach jaskini, Bruce kłóci się z Ghulem. Zapewnia go, że Sensei go tu nie znajdzie i ten, że z Alfredem będzie bezpieczny. Sam bohater postanawia zaś udać się do podziemnego świata ze swoimi nowymi towarzyszami, pozostawiając Robina w rezydencji. Po jego odejściu Deadman wchodzi w ciało Alfreda i nie dopuszcza by ten zdradził Robinowi za dużo na temat podziemnego świata.


W podziemnym świecie Batman w towarzystwie Bat-Mana i jego młodego pomocnika lecąc na wielkim nietoperzu pomaga im w starciu z wrogami.

Po 8 miesięcznej przerwie Batman: Oddysey powraca. Ze względu na Nowe DCU mam tutaj vol. 2, i tym samym na okładce widnieje numer jeden, jest to jednak 7. część historii rozpoczęta przez Neala Adamsa. Zmiany numeracji to tylko i wyłącznie kosmetyka, historia bezpośrednio kontynuuje wątki z poprzedniego numeru i chociaż była długa przerwa pomiędzy poszczególnymi numerami, to nic pod względem scenariusza/treści/fabuły się nie poprawiło. Można by nawet stwierdzić, że po takiej długiej rozłące z tytułem jeszcze trudniej jest się połapać o co w tym wszystkim chodzi.
Chyba tylko sam Neal Adams wie, o czym jest Batman: Oddysey. Na pewne nie dowiemy się tego czytając poszczególne numery. Tylko rysunki, które cały czas trzymają dobry poziom, nawet jeśli przedstawiają Batmana na dinozaurze, są jedynym argumentem za tym by obejrzeć ten komiks. Tak, ogląda go się bardzo przyjemnie, bo niestety, kiedy próbujemy czytać dialogi bohaterów, to już wszystko traci sens. Tylko, przez jaki jeszcze czas można kontynuować tę odyseję ze względu na warwę graficzną?
Ocena: 3 nietoperki

---