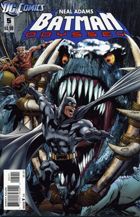 BATMAN: ODYSSEY #5
Tytuł historii: Batman Odyssey, Part 11
Miesiąc wydania (okładka): Kwiecień 2012 (USA)
W sprzedaży od: 29.02.2012 (USA)
Scenariusz: Neal Adams
Rysunki: Neal Adams
Okładki: Neal Adams
Tusz: Bill Sienkiewicz, Neal Adams, Josh Adams
Kolor: Moose Baumann
Liternictwo: Dave Sharpe
Ilość stron: 32
Twoja ocena:

GD Star Rating
loading...
Deadman pod postacią Anubisu nie pochwala faktu, że Batman poświęcił życie Robina, ale jak się okazuje Dickowi nic się nie stało. Cały i zdrowy zjawia się na miejscu. Jak się okazuje długa przemowa Senseia wystarczyła by uwolnił się z kajdanek, a sama bomba była tak skonstruowana by nie zrobić mu żadnej krzywdy.
Batman jednoczy wszystkich do walki przeciwko Senseiowi i jego ludziom, bo to jedyny sposób by uwolnić porwane kobiety. W walce uczestniczą m.in. kosmici, magowie oraz egipscy bogowie.
Podczas walki Batman oświadcza Jamrothowi, że to nie Sensei porwał Talię i Tatsindę, ale Ra's al. Ghul, który w ten sposób chciał ich nasłać na swojego syna. Bohaterowie domyślają się, że kobiety przetrzymywane są u gnomów. Do razu ruszają do ich przywódcy i po drobnym starciu udaje im się dotrzeć do celu. Od króla gnomów dowiadują się, że kobiety przetrzymywane są w lochach.
Chociaż bohaterom udaje się odnaleźć swoje ukochane to ich radość nie trwa długo, bo zostają uwiezieni i zaatakowani przez gnomów, którym przewodzi księże gnomów, który postanowił zdradzić swojego ojca. Na szczęście z niespodziewaną pomocą bohaterom przychodzą Robin i Primus wraz z licznymi oddziałami. Walka zostaje jednak zakończoną w chwili, kiedy król gnomów z łzami w oczach zabija swojego syna i tym samym dotrzymuje słowa, które dał bohaterom.

Tytuł Batman: Odyssey zapewne ma oznaczać odyseję niezrozumiałych rzeczy, których nikt nie jest wstanie pojąć. Szukanie jakiegokolwiek sensu jest po prostu bez celowe. Początkowo jakieś niezrozumiałości fabuły wynagradzały rysunki, ale teraz już nawet efektowne sceny walk z udziałem dinozaurów nie są wstanie wynieść tego pokręconego pomysłu Neala Adamsa na przeciętny poziom. Całe szczęście do końca tego wszystkiego pozostały już tylko dwa numery.
Ocena: 1,5 nietoperka

---