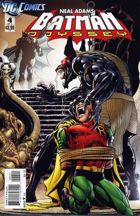 BATMAN: ODYSSEY #4
Tytuł historii: Batman Odyssey, Part 10
Miesiąc wydania (okładka): Marzec 2012 (USA)
W sprzedaży od: 18.01.2012 (USA)
Scenariusz: Neal Adams
Rysunki: Neal Adams
Okładki: Neal Adams
Tusz: Bill Sienkiewicz, Neal Adams
Kolor: Moose Baumann
Liternictwo: Dave Sharpe
Ilość stron: 40
Twoja ocena:

GD Star Rating
loading...
Po locie na gigantycznym nietoperzu Robin przekonuje się, że nie tak łatwo jest nim wylądować. Ale kiedy atakuje go pterodaktyl odkrywa, że grawitacja w podziemnym świecie jest znacznie słabsza, dzięki czemu praktycznie czuje się jak Superman. Po wyjściu z opresji dalej leci na wielkim nietoperzu, a Deadman udaje się na spotkanie z gnomami. Podczas lotu Dick sprawdza informacje o Bostonie Brandzie i odkrywa, że został on zabity w ramach próby dla zabójcy z Ligi Cieni. Opis tej tragedii od razu przypomina mu o jego rodzicach, którzy też mogli zostać zabici przez Ligę Cieni.
Tymczasem Batman w siedzibie dobrych bohaterów, odkrywa zawartość biblioteki Aleksandryjskiej, a także udziela telewizyjnego wywiadu i dowiaduje się, że w podziemnym świecie działa również "intranet". Spotyka także dr Leona Andersona, który 40 lat temu pracował dla Wayne Industries. Na miejscu jest też kilku innych znanych profesorów, którzy przed laty zaginęli ze swoimi rodzinami. Jak się okazuje sprowadził ich tu Ra's al Ghul, a za sprawą jam łazarza zachowali młodość. Po chwili Batman staje się bardzo agresywny wobec nowo poznanych doktorów, uważa, że dzięki Ghulowi uniknęli oni wymiaru sprawiedliwości.
Deadman terroryzuje plemię gnomów, by zdobyć klucz do źródła Nilu. Na miejscu zjawia się Robin, który od Bostona dowiaduje się jak znaleźć Senseia.
Po uspokojeniu się Batman postanawia pokazać Andersonowi źródło Nilu. Na ich drodze pojawia się jednak Anubis. Bohater próbuje się z nim uporać za pomocą "pocałunku od Mike'a Tysona" i innych sztuk walki. Kiedy strategia ta zaczyna przynosić rezultaty na miejscu zjawiają się inni egipscy bogowie. Walka zostaje przerwana i bohaterowie próbują dojść do porozumienia. Batman wyjaśnia, że egipscy bogowie byli wynikiem nieudanego, starożytnego eksperymentu genetycznego i tylko udawali, że są bogami, ponieważ dzięki jamom łazarza byli wiecznie młodzi. Na miejsce dociera również ciężko ranny Deadman, który podczas starcia z gnomami został trafiony licznymi strzałami. Ma on przy sobie klucz do źródła Nilu.
Kiedy Anubis ma już wskazać Batmanowi, gdzie jest wejście do źródła Nilu, za pomocą telefonu kontaktuje się z nim Sensei, który schwytał Robina. Bruce nie zamierza jednak się poddawać, wyjmuje detonator i wysadza w powietrze Cudownego Chłopca, który w swoim pasie miał zamieszczone ładunki wybuchowe. Batman zdecydował się poświęcić życie Dicka, ale eksplozja nie wyrządziła żadnej krzywdy Senseiowi. Bohater jednak się nie smuci i zawiadamia Jamrotha, że zlokalizował już miejsce w którym przetrzymywane są Talia i Tatsinda.

Jak na Batman: Odyssey numer ten jest dość zrozumiały. Mniej więcej wiadomo, co się wydarzyło. Oczywiście nie oznacza to, że którekolwiek z przedstawionych wydarzeń ma jakiś sens. Ten cały czas jest głęboko ukryty. Wydaje się, że Batman wie więcej niż mieszkańcy podziemnego świata. Skąd tego rzecz jasna nie wiemy. Pomijając obecność kosmitów, magów, naukowców i egipskich bogów, z numeru największe wrażenie robi końcówka. Batmana zabija Robina. Przynajmniej tak to wygląda. Dick nie został nawet poświęcony po to by zgładzić Senseia. Pewnie dopiero w kolejnym numerze dowiemy się, jaki był cel tej eksplozji i co też stało się z Cudownym Chłopcem, bo mimo tej szaleńczej narracji wątpię by Adams naprawdę uśmiercił Dicka.
Ocena: 3 nietoperki

---