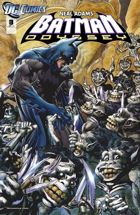 BATMAN: ODYSSEY #3
Tytuł historii: Batman Odyssey, Part 9
Miesiąc wydania (okładka): Luty 2012 (USA)
W sprzedaży od: 21.12.2011 (USA)
Scenariusz: Neal Adams
Rysunki: Neal Adams
Okładki: Neal Adams
Kolor: Guy Major
Tusz: Bill Sienkiewicz, Neal Adams
Liternictwo: Dave Sharpe
Ilość stron: 40
Twoja ocena:

GD Star Rating
loading...
Kiedy w podziemnym świecie Robin wdaje się w walkę z gnomami z pomocą przychodzi mu Deadman, który w tym świecie nie jest duchem. Po wygranym starciu gnomy zgadzają się zaprowadzić bohaterów do ogromnych nietoperzy, na których można latać.
Tymczasem Batman wraz Jamrothem i Prince Primusem dociera do miejsca, w którym czarodzieje oraz dwaj kosmici wspierają miejscowych w wojnie z ludźmi Senseia. Dzięki wsparciu bohaterów siły złoczyńcy zostają znacząco przerzedzone. Zwłaszcza, że Batman odkrywa pole o niskiej grawitacji co sprawia, że jest niezwykle silny i może nawet własnymi rękoma odrzucać czołgi. Do walki włączają się również czarodzieje. Kiedy wojna się kończy na polu walki zjawia się olbrzymi Sensei. Po chwili przyjmuje swoją normalną formę i wyzywa Batmana na pojedynek jeden na jeden. Starcie zostaje jednak zakończone kiedy złoczyńca stwierdza, że dowiedział się tego czego chciał. Batman nie był wstanie go pokonać i chociaż Sensei teraz odchodzi, to obiecuje, że w odpowiedniej chwili zabije bohatera.

Po poprzednim numerze wydawało się, że coś sensownego z tego będzie. Ten numery wyrywa nas jednak z tych marzeń i wskazuje, że tylko Neal ma być może pojęcie, o co w tym wszystkim chodzi. Wojna w podziemnym świecie, Batman rzucający czołgami, czarodzieje, kosmici, Sensei, naprawdę nie mam ochoty dopatrywać się w tym jakiegokolwiek sensu. Jedyna dobra rzecz, którą można powiedzieć o tym numerze, to fakt, że zmniejszyła się liczba osób, które nakładały tusz i kolor, dzięki czemu warstwa graficzna prezentuje się lepiej, nie jest to jednak wielkie pocieszenie.
Ocena: 2 nietoperki

---