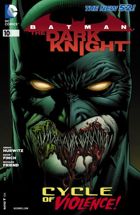 BATMAN: THE DARK KNIGHT #10
Tytuł historii: Hollow Man
Miesiąc wydania (okładka): Sierpień 2012 (USA)
W sprzedaży od: 27.06.2012 (USA)
Scenariusz: Gregg Hurwitz
Rysunki: David Finch
Okładka: Finch, Friend i Jeromy Cox
Kolor:Tusz: Richard Friend
Liternictwo: Dezi Sienty
Ilość stron: 32
Twoja ocena:

GD Star Rating
loading...
Początek historii, w której Batman zmierzy się z najbardziej zabójczą wersją Stracha na Wróble!
Po zszyciu swoich ust mężczyzna schodzi do piwnicy gdzie uwięziona jest młoda dziewczyna. Przerażonej dziewczynce jej oprawcą przedstawia się jako Bogeyman. Zamierza nauczyć ją czym jest strach.
W Wayne Manor po nocy spędzonej z Natalyą, Bruce rano z przyjemnością słucha jej gry na fortepianie. Wayne nie może jednak poświęcić więcej czasu swojej urodziwej Ukraince, bo z wieściami przychodzi Alfred. Porwano kolejne dziecko.
Policja obserwuje dziewczynkę, która wcześniej uwięziona była w piwnicy. Porzucona na ulicy wygląda na osobę zdezorientowaną. Samochód, z którego wysadzono dziewczynkę, próbuje sobie utorować drogę do ucieczki, narażając przy tym życie niewinnych mieszkańców. Kierowca traci panowanie nad samochodem i zmierza wprost na klinikę położniczą. Do tragedii nie dopuszcza jednak Batman. Nie dowiaduje się jednak zbyt wiele od wynajętego zbira, który wie tylko tyle, że za podrzucenie dziewczyny zapłacił mu Hollow Man.
W nocy na dachu komisariatu Batman spotyka się Gordonem. Rozmawiają na temat ostatnich wydarzeń. Bruce jest pewien, że ich tajemniczy przeciwnik, wkrótce popełni poważny błąd, bo już zaczął wynajmować ludzi by wykonywali za niego to, co wcześniej robił sam. Gordon martwi także to, że bandyta, którego zatrzymali jest w wieku Jamesa jr., a to tylko uzmysławia mu, że jest już zmęczony tym miastem.
W nocy Batman odwiedza dziewczynkę, Claire, która więziona była przez Bogeymana. Ostrożnie, z cały czas przerażonym dzieckiem, próbuje nawiązać kontakt, ale ta cały czas nic nie mówi.
W jaskini Damian wraca do niedawnej rozmowy na temat stosowania przemocy, którą odbył z ojcem. Wyznaje mu, że słuchał, co ten do niego mówi. Tym razem Bruce jednak w ogóle nie zwraca uwagi na syna, bo jest zbyt pochłonięty aktualnym śledztwem.
Po powrocie do domu Jim Gordon tak jak zwykle od razu bierze prysznic, ale tym razem zamiast wody leci toksyna strachu. Substancja błyskawicznie zaczyna działać i komisarz musi się zmierzyć ze swoimi największymi lękami. Zaczyna mieć halucynacje. Wydaje mu się, że widzi Barbarę, której nie udało mu się uchronić przed Jokerem oraz Jamesa jr, przy którym go nie było, kiedy ten najbardziej go potrzebował.
Bruce Wayne odwiedza Natalyę, która nie jest jeszcze gotowa, bo ma problemy z grą na fortepianie. Kobieta potrzebuje teraz wsparcia ze strony Bruce'a, ale dla niego ważniejsza jest impreza charytatywna. Natalya ma już tego dość, że zawsze jest coś ważniejszego, że woli on troszczyć się o nieznane osoby i że w ogóle nie dba o normalne przyjemnego, dlatego wyprasza go za drzwi i postanawia spędzić wieczór samotnie.
W domu Gordona zjawia się Jonathan Crane aka Strach na Wróble, dla którego jest to dopiero początek zabawy.
Gregg Hurwitz za sprawą dobrzy przyjętej miniserii Penguin: Pain and Prejudice zasłużył na szansę by wykazać się w jakiejś regularnej serii. Wybór padł na Batman: The Dark Knight, która za sprawą Fincha prezentowała się dobrze pod względem rysunków, ale już rysownik w w roli scenarzysty wypadał zdecydowanie poniżej oczekiwań.
Pierwszy numer Batman: The Dark Knight autorstwa Gregga Hurwitza wypada dobrze i zapowiada naprawdę dobrą historię ze Strachem na Wróble. Mamy tu wszystko, co powinno być w opowieści o Batmanie. Znany złoczyńca, Batman prowadzący śledztwo, a także rozmowy bohatera z Gordonem, czy kolejną dziewczynę Bruce'a. Pojawia się nawet Damian, ale o dziwo jego obecność nie przeszkadza. W 10. numerze serii dużo się dzieje i praktycznie sama postać Stracha na Wróble jest głęboko na drugim planie. Z jednej strony można, więc narzekać, ale z drugiej dobrze, że scenarzysta rozwija różne wątki, zwłaszcza, że cała opowieść ma zająć aż 6 numerów. Trzeba przyznać, że poboczne wątki, jak ten z komisarzem, który przestaje wierzyć w Gotham, czy też kolejny romans Bruce'a, są równie interesujące, co działania złoczyńcy. Nowa dziewczyna Wayne'a to nie tylko przelotny romans. Natalya nie tylko potrafi postawić na swoim, ale także już dość dobrze zna Bruce i wie, że ten nie poświęca wystarczającej uwagi swoim bliskim. Wygląda, więc na to, że całość Hurwitz należycie zaplanował i jeśli do tego wszystkiego dodamy rysunki Fincha i jego przerażającego Stracha na Wróble to mamy wiele powodów by sięgnąć po ten numer.
Ocena: 4,5 nietoperka

---