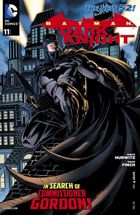 BATMAN: THE DARK KNIGHT #11
Tytuł historii: Cycle of Violence
Miesiąc wydania (okładka): Wrzesień 2012 (USA)
W sprzedaży od: 25.07.2012 (USA)
Scenariusz: Gregg Hurwitz
Rysunki: David Finch
Okładka: Finch, Friend i Jeromy Cox
Kolor:Tusz: Richard Friend
Liternictwo: Dezi Sienty
Ilość stron: 32
Twoja ocena:

GD Star Rating
loading...
Strach na Wróble decyduje się na śmiały ruch wobec Batmana, wykorzystując komisarza Gordona jako przynętę!
Przerażająca przeszłość dotycząca zarówna Stracha na Wróble i Batmana wychodzi na jaw.
Strach na Wróble ma specjalne plany wobec porwanego komisarza Gordona, a także jego przyjaciela.
Bruce spotyka się z Natalyą by porozmawiać na temat ostatniego zajścia. Chociaż kobieta przeprasza Wayne'a za swoją spontaniczną reakcję, to sytuacja znów robi się napięta, kiedy okazuje się, że Bruce prawdopodobnie zapomniał o jej koncercie. Ukrainka, jednak nie chce znowu wszystkiego komplikować, bo rozumie, że Bruce ma za sobą ciężkie przeżycia, a jej samej też nie było łatwo na ulicach Kijowa, ale wie, że czasem "zbroja", za którą można się skrywać jest jak kotwica ciągnąca na samo dno. Wayne nie ma okazji by odpowiedzieć swojej przyjaciółce, bo Alfred nalega by ten chociaż obejrzał najnowsze wiadomości. To właśnie z nich Batman dowiaduje się, że komisarz Gordona został porwany.
Batman spotyka się z Harveyem Bullockiem w domu Gordona. Szybka analiza w łazience pozwala ustalić, że zastosowano toksynę strachu, a to oznacza, że za wszystkim stoi Strach na Wróble.
Tymczasem złoczyńca testuje swoją toksynę na kolejnej porwanej, małej dziewczynce i przypomina sobie również swoje dzieciństwo.
Nie były to dla Jonathana sielskie lata. Jego ojciec przeprowadzał na nim eksperymenty. Podłączał do niego diody i wrzucał go do ciemnej komórki, by monitorować zachowania przerażonego chłopca.
Po zebraniu łez od przerażonej dziewczyny Strach na Wróble ostrzega ją, że następnego dnia będzie jeszcze gorzej, że zrozumie, czym naprawdę jest strach.
Czym jest strach wie Bruce Wayne, który w dzieciństwie bawiąc się latawcem na podwórku przy rezydencji wpadł do jaskini pełnej nietoperzy. Udało mu się z niej wydostać, a jego matka wytłumaczyła mu, że wszyscy czasem się czegoś boją. Wydarzenia te jednak od czasu do czasu cały czas nie pozwalają Bruce'owi na spokojny sen w nocy.
Batman ponownie postanawia odwiedzić dziewczynkę, którą wcześniej udało się uratować. Początkowo i tym razem nie odpowiada ona na żadne z jego pytań, ale tylko do czasu kiedy pyta ją o imię jej zabawki, która nazywa się "Ducky". Następnie kierując pytania do "Ducky'ego", dziewczyna zdradza, że zapamiętała numer rejestracyjny samochodu swojego oprawcy.
Nie mając problemów z namierzeniem samochodu Batman dociera do domu, gdzie po zapoznaniu się z obrazem z kamery na podczerwień odkrywa, że jest w odpowiednim miejsce. Bo właśnie tam przetrzymywany jest Gordon. Natychmiast wkracza do akcji. Strach na Wróble nie daje się jednak zaskoczyć, celnym strzałem aplikuje Bruce'owi swoją toksynę, który następnie wpada wprost do podziemnego tunelu.
W numerze poznajemy wydarzenia z przeszłości Jonathana Crane'a, który w tej wersji w dzieciństwie był wykorzystywany jako królik doświadczalny przez swojego ojca. Mamy więc w pewnym sensie do czynienia z rodzinną obsesją. Czy taki pomysł wyjściowy się sprawdzi, to będzie można dopiero ocenić po zakończeniu całej historii.
Jak do tej pory jest dobrze i cała opowieść wciąga. I o ile mamy okazję lepiej przyjrzeć się postaci Stracha na Wróble i jego motywacji, to także za sprawą drugoplanowych wątków odkrywamy też zakamarki psychiki Bruce'a Wayne'a, który też wie, co to strach.
Po drugim numerze autorstwa Hurwitza można z pełną odpowiedzialnością stwierdzić, że Batman: The Dark Knight wreszcie jest serią godną uwagi nie tylko ze względu na rysunki Fincha.
Ocena: 4 nietoperki

---