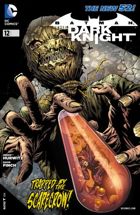 BATMAN: THE DARK KNIGHT #12
Tytuł historii: Mirror, Mirror
Miesiąc wydania (okładka): Październik 2012 (USA)
W sprzedaży od: 22.08.2012 (USA)
Scenariusz: Gregg Hurwitz
Rysunki: David Finch
Okładka: Finch, Friend i Oback
Kolor:Tusz: Richard Friend
Liternictwo: Carlos M. Mangual
Ilość stron: 32
Twoja ocena:

GD Star Rating
loading...
Batman został schwytany przez Stracha na Wróble, który chce by Mroczny Rycerz został jego królikiem doświadczalnym do przetestowania ostatecznej toksyny strachu.
Ojciec Jonathana Crane'a często zaglądał do pokoju swojego syna, kiedy ten spał i opowiadał mu, że jest z niego dumny i z tego jak sobie radzą po śmierci jego matki. Nie robił tego jednak z ojcowskiej troski, ale po to by obudzić syna by ten dalej brał udział w jego eksperymentach.
Strach na Wróble zgodnie ze swoim planem schwytał Batmana, który ma być jego nowym królikiem doświadczalnym. Komisarz Gordon był tylko przynętą i już został zabrany do szpitala. Crane'owi nie udało się jednak zdjąć maski Batmana, gdyż ta zabezpieczona jest jakimś sprytnym przyrządem.
Po zaaplikowaniu Batmanowi swojej nowej substancji Bruce znowu przeżywa swoje najgorsze koszmary. W dzień, kiedy jego rodzice wybierali się do opery wpadł do jaskini z nietoperzami. Chciał porozmawiać z ojcem na temat strachu, ale ten nie miał czasu. Młody Bruce często był samotny, a kiedy z rodzicami wybrał się do kina na nowy film z Zorro, jedna z scen przeraziła go tak bardzo, że rodzicie wyprowadzili go na zewnątrz. W ciemnej alejce po słowach Thomasa, by Bruce nauczył się nie bać się wszystkiego doszło do tragedii.
Mocno przeżywające katusze Batman znajduje jednak w sobie siły by zapytać się Stracha na Wróble o jego dzieciństwo.
Młody Jonathan wykorzystywany przez swojego ojca do eksperymentów, też często musiał radzić sobie z samotnością, a wraz zbiegiem lat nic się nie zmieniało. Kiedy zaczął eksperymentować z ludzkim strachem na uczelni nie doceniono jego badań i metod. Nie sprawdził się również, jako psychiatra, gdyż mordowanie pacjenta nie jest mile widziane. Szukając swojej drogi wrócił na rodzinną farmę i patrząc na stojącego na polu stracha na wróble, zrozumiał, jakie jest jego przeznaczenie. Kontynuował swoje badania, a jego pierwszym obiektem został jego ojciec, którego doprowadził do tego, że ten sam wyciął sobie trzewia.
Crane uważa, że jako pan strachu, ma przewagę nad Batmanem, gdyż ten cały czas ucieka przed swoim strachem. Mroczny Rycerz nie lękał się jednak nikogo gdy walczył z Mad Hatterem, Two-Face'em, Killer Crociem, Mr. Freeze'em, czy Jokerem. Próbował sobie także poradzić z lękiem związanym ze śmiercią rodziców.
Kontynuując dalej swój eksperyment na bohaterze, Strach na Wróble próbuje mu uzmysłowić, że tak naprawdę nikogo brak Batmana nie zasmuci.
Młody Bruce tuż po śmierci rodziców próbuje uporać się ze swoimi lękami. Dlatego wskakuje do jaskini pełnej nietoperzy. Tym razem jednak się nie boi. Bo chociaż wszyscy ludzie czegoś się boją, to co jeśli on nie chce być człowiekiem?
Doświadczenia Stracha na Wróble na Batmanie przybliżają nam dzieciństwo dwójki bohaterów. Jak się okazuje w ich przeszłości było wiele wspólnych elementów, skąd też tytuł historii Mirror, Mirros. Obaj czuli się osamotnieni, jednak każdy z nich obrał zupełnie inną drogę.
Podróż po młodości Bruce'a i poznanie jego największych lęków nie jest może specjalnie odkrywcza, ale już rysunki Fincha sprawią, że nie można przejść obojętnie obok tych wydarzeń. Momentami przerażająca warstwa graficzna numeru doskonale pasuje do historii ze Strachem na Wróble w roli głównej, tylko szkoda, że już sama opowieść nie jest tak porywająca. Chociaż Batman w samej masce i z odsłoniętą klatką piersiową prezentuje się okazale, to mimo wyjaśnień, nie rozumiem jak Stracha na Wróble mógł powstrzymać jakiś mechanizm zabezpieczający przed zdjęciem maski bohatera. Przecież Bruce był nieprzytomny, Crane gdyby naprawdę chciał mógłby znaleźć wiele sposobów by odkryć tożsamość bohatera Gotham City.
Ocena: 4 nietoperki

---