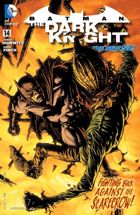 BATMAN: THE DARK KNIGHT #14
Tytuł historii: The Twilight Kingdom
Miesiąc wydania (okładka): Styczeń 2013 (USA)
W sprzedaży od: 28.11.2012 (USA)
Scenariusz: Gregg Hurwitz
Rysunki: David Finch
Okładka: David Finch, Nathan Fairbairn
Kolor:Liternictwo: Dezi Sienty
Ilość stron: 32
Twoja ocena:

GD Star Rating
loading...
Porwany i torturowany przez Stracha na Wróble, Mroczny Rycerz jest już wolny i szuka rewanżu!
Czy to koniec rządów terroru Stracha na Wróble? Marne szanse.

Po uwolnieniu się Batman jest wściekły i wcale, ku zaskoczeniu Stracha na Wróble, nie czuje się źle. Teraz to on zamierza pokazać złoczyńcy co to znaczny poczuć strach. Bohater ostro walczy i przebija wyrzutnią haków szczękę łotra do sufitu, ale sam wcześniej nadziewa się na kosę przeciwnika.
Po uwolnieniu się Strach na Wróble zauważa, że z instalacji ulatnia się gaz, co oznacza, że budynek zaraz wyleci w powietrze. Zabiera próbkę nowej toksynę, którą testował na Batmanie, oraz więzioną dziewczynkę, która błagała go by ją wypuścił.
W międzyczasie ciężko ranny Batmana ledwo trzyma się na nogach i co gorsza natrafia na grupę chuliganów, którzy mają niespotykaną okazję by pokonać bohatera. Na szczęście w porę odnajduje Bruce'a odnajduje Robin.
Następnego dnia przy łóżku Bruce'a cały czas czuwa Damian, który po jego zaginięciu każdej nocy go szukał. Uratowana dziewczyna zostaje przesłuchana przez policję. Z jej zeznań funkcjonariusze dowiadują się, że Strach na Wróble planuje jakiś wielki atak.
Tymczasem łotrowi udaje się dotrzeć do kasyna Pingwina, który miał dla niego coś przygotować. Po uregulowaniu zapłaty w postaci diamentów Oswald zapewnia Crane'a, że wszystko będzie gotowe w sam raz na święta. Strach na Wróble zamierza rozpylić swój gaz z wielkiego sterowca podczas Bożenarodzeniowej parady.
Po Greggu Hurwitzu spodziewałem się czegoś lepszego. Oczywiście historia jeszcze się nie zakończyła, ale The Twilight Kingdom to zdecydowania najsłabsza część jak do tej pory. Walka Batmana i Stracha na Wróble prezentuje się świetnie, ale nie jest coś niezwykłego, kiedy za warstwę graficzną odpowiada David Finch. Dalej niestety jest już gorzej. Batman po unieszkodliwieniu Crane'a zamiast wezwać pomoc, czy przynajmniej poszukać zaginionej dziewczynki, sam ledwo trzymając się na nogach próbuje wrócić do jaskini. Skoro jest aż w tak złym stanie, to od razu powinien wezwać pomoc, a nie wystawiać się na atak grupie łobuzów.
Zawodzi też wielki plan Stracha na Wróble. Sterowiec rozpylający gaz podczas świątecznej parady? Skąd my to znamy. Zamiast czegoś oryginalnego otrzymujemy powtórkę z rozrywki, tylko Joker zostaje zamieniony na Stracha na Wróble.
W poprzednich numerach Hurwitz starał się pokazać motywację działania bohaterów odkrywając ich przeszłość, a w Batman : The Dark Knight #14 nie ma to już praktycznie znaczenia, bo wszystko wydaje się być sprowadzone tylko do faktu, że Crane pod wpływem własnych doświadczeń z dzieciństwa lituje się na porwaną dziewczynką. Wydarzenia z tego numeru sprawiają, że zaczynam poważnie się martwić o poziom zbliżającego się zakończenia historii ze Strachem na Wróblem.
Ocena: 3,5 nietoperka

---