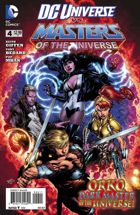 DC UNIVERSE VS. THE MASTERS OF THE UNIVERSE #4
Tytuł historii: Worlds Collide
Miesiąc wydania (okładka): Marzec 2014 (USA)
W sprzedaży od: 15.01.2014 (USA)
Scenariusz: Keith Giffen, Tony Bedard
Rysunki: Dexter Soy, Derlls Santacrus, Andres Ponce
Okładka: Ed Benes
Kolor: Dexter Soy, Veronica Gandini
Liternictwo: Deron Bennett
Ilość stron: 32
Twoja ocena:

GD Star Rating
loading...
Nareszcie! Tożsamość mrocznego sprzymierzeńca Szkieletora zostaje ujawniona. Czy połączone siły wszystkich Lig Sprawiedliwości i Panów Wszechświata przetrwają starcie z mrocznymi siłami?
Ludzkość pozostaje w szoku po śmierci Supermana. Na całym świecie zachodzą niewytłumaczalne zdarzenia związane z magią. W Turcji wybuchają wulkany przy jednoczesnym trzęsieniu ziemi. Tsunami nawiedziło Malezję. W Kansas z czystego bezchmurnego nieba zaczęły spadać ropuchy, a w Rosji urodził się dwugłowy kot wrzeszczący ludzkim głosem.
Na wyspie Orkney w Wielkiej Brytanii, ekipie księcia Adama za pomocą Evil–Lyn udaje się namierzyć częstotliwość urządzenia do wysysania magii, dziwny przedmiot został skonstruowany przez Szkieletora.
Tymczasem w Metropolis Amerykańska Liga Sprawiedliwości walczy z ludźmi Man–At–Arma. W ferworze walki trudno jest wyjaśnić zaistniałe nieporozumienie. Pułkownik Steve Trevor kontaktuje z Wonder Woman, która jest w trakcie poszukiwań grupy He–Mana. Trevor przesyła amazonce obraz z pola walki. Niestety Diana stwierdza, że nie tej grupy szuka, choć ludzie Man-At–Arma wyglądają dziwnie znajomo. Pułkownik stwierdza, że w takim razie najeźdźcy mają sprzymierzeńców.
W tym czasie w swojej jaskini Bruce analizuje nagranie na którym znika ciało Supermana. Nurtuje go, że przyrządy pomiarowe nie wykryły na miejscu szczątków DNA i kostiumu Supermana, a co za tym idzie podejrzewa, że śmierć herosa została sfingowana. Alfred podchodzi sceptycznie do tych rewelacji. Tok takiego myślenia, według lokaja jest spowodowany żalem po stracie przyjaciela. Bruce oznajmia niespodziewanie, że musi się spotkać z kimś i w kostiumie nietoperza opuszcza jaskinie.
Tymczasem w kryjówce Szkieletora i jego zakładniczki Black Alice pojawia się mroczy Orko. Złowroga istota nie ukrywa swoich zamiarów. Zamierza podbić Ethernie bezbronną bez swoich obrońców, a potem zesłać na ziemie demony ze swojego wymiaru Troll. Przerażona Black Alice stwierdza, że sytuacja wymknęła się z pod kontroli Szkieletorowi. Złoczyńca zgadza się z nią.
W Metropolis walkę między przybyszami, a Ligą przerywa Mroczna Drużyna Deadmana. Zjawiają się również Batman, Constantine i Madame Xandu. Mroczny Rycerz wyjaśnia zwaśnionym stronom całą sytuację. Opowiada o tym jak zbiegł przed magią Szkieletora, dzięki czemu nie był pod jego wpływem jak reszta jego kolegów z Ligii Sprawiedliwych. Informuje zebranych, że Superman według jego analiz żyje. Przerażony Kryptończyk lewituje w magicznej próżni, a więzi go nie kto inny jak Dark Orko!
Sprawy na świecie mają się coraz gorzej! Po długiej i niepotrzebnej walce bohaterowie z obu stron dochodzą do wniosku, że powinni się zjednoczyć w obliczu zagrożenia. Wszystko to dzięki niezastąpionemu Batmanowi. Superman żyje. To wszystko było do przewidzenia. Postać Mrocznego Orko, okazuje się zbyt potężna nawet dla Szkieletora. Na orgin tego pierwszego będziemy musieli poczekać do następnego numeru. Keith Griffen i Tony Bedard, napisali tym razem bardzo przeciętny numer. Nurtuje mnie postać Zatanny na okładce zeszytu, ponieważ nie pojawia się ona w samej historii.
Ocena: 3 nietoperki

---