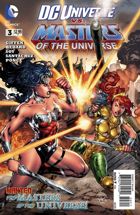 DC UNIVERSE VS. THE MASTERS OF THE UNIVERSE #3
Tytuł historii: Fugitives
Miesiąc wydania (okładka): Styczeń 2014 (USA)
W sprzedaży od: 04.12.2013 (USA)
Scenariusz: Keith Giffen
Rysunki: Dexter Soy, Derlls Santacrus, Andres Ponce
Okładka: Ed Benes
Kolor: Dexter Soy, Veronica Gandini
Liternictwo: Deron Bennett
Ilość stron: 32
Twoja ocena:

GD Star Rating
loading...
Masters of the Universe, są ścigani przez Ligę Sprawiedliwych. W samym środku chaosu Szkieletor planuje kolejny niebezpieczny krok w swoim planie.
Przed Wayne Manor leży martwy Superman. Członkowie Ligii są w szoku, wygląda na to, że czar Szkieletora przestał na nich działać. He-Man przeprasza za to co się stało i gotów ponieść konsekwencje swojego czynu walcząc z herosami. Constantin i madame Xandu starając się załagodzić napiętą atmosferę stwierdzają, że ich grupa musiała bronić się przed opętanymi bohaterami. Diana nie chce tego słuchać i szykuje się aby zaatakować He – Mana. Powstrzymuje ją Batman. Poirytowana tą sytuacją Evil–Lyn przenosi drużynę do Metropolis. Jest to ruch skrajnie nie rozważny, ale jak to mówią "najciemniej jest pod latarnią. Postawa czarownicy irytuje pozostałych członków grupy.
Tymczasem ciało Supermana znika z objęć zrozpaczonej Wonder Woman. Pierścień Green Lanterna nie wyczuwa jednak aury jego duszy. Batman stwierdza, że w zachowaniu opętanego Supermena w czasie ataku w jaskini było coś niezmiernie dzikiego i sugeruje reszcie drużyny, aby skupili się na złapaniu morderców Człowieka ze Stali.
Tymczasem Man–At–Arm w towarzystwie kota bojowego i reszty sprzymierzeńców pojawia się na Ziemi. Płoszą grupę gapiów zebranych w około siedziby Dr. Fate'a. Na szczęście udaje im się wypytać młodego chłopaka o to kto w ich wymiarze jest najsilniejszą grupą bohaterów i gdzie ich znajdą? Zapytany wskazuje ogólnie na Ligę Sprawiedliwych.
Między czasie grupa pod wodzą Constantina udaje się po pomoc do Justice Laegue of Dark. Po przedstawieniu całej sytuacji Deadman, Swamp–Thing i reszta mrocznej ligi postanawia pomóc w odnalezieniu prawdziwych morderców Supermana. Pomimo tego, że do końca nie ufają Johnowi Constantinowi.
Media dowiadują się o śmierci Kryptończyka. Wszyscy mieszkańcy ziemi znają wizerunki He–Mana i jego ludzi. Rząd nakazuje Justice League of America, aby ta znalazła morderców. Pech chce, że napotykają drużynę Man – At – Arma. W wyniku nieporozumienia wysłani przez rząd herosi ruszają do ataku.
Tymczasem w domu sekretów Szkieletor i jego tajemnicza towarzyszka, śledzą rozwój wypadków przez Internet. Złoczyńca jest zadowolony, że wszystko idzie po jego myśli. Postanawia z innego wymiaru przywołać swojego sojusznika Dark Orko!
Trzeci zeszyt przyniósł zmiany na stołku scenarzysty. Keitha Giffena zastąpił Tony Bedard. Ciało Supermana rozpływa się i znika. Wszyscy ścigają drużynę He–Mana. Do konfliktu dołączają się Ligi Ciemności i Ameryki. Z Eterni przybywają posiłki. Mamy pierwsze omyłkowe starcie. Na ostatnich stronach Szkieletor wyjmuje przysłowiowego "asa z rękawa". Na dwudziestu stronach dzieje się dużo, ale z sensem. Dostajemy małą wskazówkę co do tego kim jest tajemnicza zakładniczka Szkieletora, cóż to rockowa emo laska więc nikt naprawdę ciekawy. Bardziej intryguje mnie jak to się stało, że sympatyczny Orko przeszedł na ciemną stronę? Nie kupuję wyjaśnień, że jedynym powodem tego kroku było, to że się z niego kumple naśmiewali.
Tym razem w warstwie graficznej Dexsterowi Soy partnerowało kilku rysowników i nakładaczy tuszu. Nie jestem zwolennikiem takich praktyk, psuje to odbiór całości.
Poprzedni numer był bardzo przeciętny. Trzeci epizod znów nabiera rumieńców. Na półmetku crossovera rośnie nam obsada bohaterów i antybohaterów. To wszystko może się fabularnie posypać. Na razie trzyma kciuki za scenarzystów.
Ocena: 3 nietoperki

---