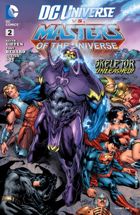 DC UNIVERSE VS. THE MASTERS OF THE UNIVERSE #2
Tytuł historii: Justice Denied
Miesiąc wydania (okładka): Grudzień 2013 (USA)
W sprzedaży od: 23.10.2013 (USA)
Scenariusz: Keith Giffen
Rysunki: Dexter Soy
Okładka: Ed Benes
Kolor: Dexter Soy
Liternictwo: Deron Bennett
Ilość stron: 32
Twoja ocena:

GD Star Rating
loading...
Szkieletor przyniesie zgubę DCU. Jeżeli He–Man i Master of The Universe nie są w stanie go powstrzymać, to czy powstrzyma go Liga Sprawiedliwych?
W Greenwich Village bohaterowie walczą z plagą opętanych szczurów. Przy pomocy czarnej magii Evil–Lyn i mocy Constantine'a udaje się odeprzeć fale wrogów. Po walce królowa Marlena tłumaczy synowi jak znalazła się na ziemi. Z kolei cynicznemu Constantinowi opowiada jak została królową Eterni. Rozmowy przerywa Tella, pytając gdzie właściwie jest teraz Szkieletor?
Na satelicie Ligi Sprawiedliwych pojawia się Szkieletor. Superman, Batman, Flash, Wonder Woman, Aquaman i Cyborg zaalarmowani przybyciem intruza żądają wyjaśnień. Przybysz z Eterni wcale nie ukrywa wrogich zamiarów i jednym ciosem magicznym powala na ziemię atakującego Supermana. Po czym nasyła na resztę osłupiałych ze zdziwienia bohaterów hordę demonów.
Na Eterni Man-At-Arm wraz z trójką pozostałych towarzyszy namierza ślad księcia Adama i jego towarzyszek, postanawia wezwać posiłki i przenieś się na ziemię.
W tym samym czasie książę Adam i jego towarzysze pojawiają się w batcave za sprawą Constantina. Evil–Lyn podoba się wystrój jaskini. Tella patrząc na kostiumy Robinów za gablotami stwierdza, że Mroczny Rycerz to morderca dzieci. Królowa Marlena informuje młodą kobietę, że Batman jest największym detektywem na ziemi i tylko on może pomóc w wyśledzeniu Szkieletora. W tym samym momencie Batman teleportuje się do jaskini, ledwo uciekając z demonicznych objęć. Nie jest zadowolony z tego, że po jaskini kręcą się obcy. Ale nie czas na kłótnie. W jaskini pojawiają się pozostali członkowie Ligii Sprawiedliwych opętani przez magię Szkieletora. Walka przenosi się przed rezydencje Wayne'a. W ferworze starcia książę Adam przebija pierś Supermana swoim magicznym mieczem.
Druga odsłona DC Universe vs Master of The Universe, jest dość sztampowa. Połowę zeszytu zajmują starcia i potyczki między bohaterami. Ziemscy herosi zbyt łatwo dali się opętać Szkieletorowi. Oczywiście ze starcia cało wychodzi Batman. Śmierć Supermana ugodzonego mieczem He–Mana jest dość tanim chwytem dramaturgicznym. Scenarzysta Keith Giffen tym razem się nie popisała. Zeszyt broni się jedynie od strony plastycznej oraz paroma całkiem zabawnymi i błyskotliwymi dialogami.
Ocena: 3 nietoperki

---