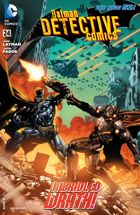 DETECTIVE COMICS #24
Tytuł historii: State of Shock
Miesiąc wydania (okładka): Grudzień 2013 (USA)
W sprzedaży od: 02.10.2012 (USA)
Scenariusz: John Layman
Rysunki: Jason Fabok
Okładka: Jason Fabok i Blond
Kolor: Blond
Liternictwo: Jared K. Fletcher
Ilość stron: 32
Twoja ocena:

GD Star Rating
loading...
Ostateczna konfrontacja Batmana z Wrathem! Czy Batman powstrzyma swojego złego odpowiednika przed zabiciem kolejnych osób, kiedy epicka bitwa rozgrywa się na ulicach Gotham?
Burmistrz Hardy był bardzo zadowolony gdy E.D. Caldwell zaopatrzył policjantów w nowy sprzęt. Jednak ten wcale nie chroni policjantów, ale ich zabija. W całym mieście funkcjonariusze są unieszkodliwiani przez ładunki elektryczne zamontowane w nowych kamizelkach.
Tymczasem Wrath w pancernej zbroi gotowy jest na ostateczny etap swojej misji. W swoim powietrznym statku atakuje lecącego Batwingiem Batmana. Żeby zyskać trochę czasu Bruce decyduje się na samozniszczenie swojego pojazdu, by tym samym uszkodzić też statek Wratha.
Po tymczasowym wyeliminowaniu z gry Wratha Bruce zabiera Alfreda z budynku Caldwella, który odkrył ważną informację na temat ich przeciwnika. Ojciec Caldwella był złodziejem, który został zabity przez policjantów, po tym jak ukradł cenny diament. Łupu jednak nigdy nie odnaleziono, a było to wczasach, kiedy powszechnie wiadomo było jak bardzo skorumpowani są gliniarze. Wcześniej tej informacji nie udało się ustalić, gdyż dzięki współpracy z policją Caldwell zdołał ją usunąć z systemów informacyjnych, ale pozostawił ją w swoim systemie.
Wrath wielkim czołgiem przygotowuje się by zniszczyć jeden z wielkich domów mieszkalnych. W środku zastaje jednak tylko odzianego w specjalną zbroję Batmana. Bruce zdążył zawczasu wszystko ustalić z komisarzem Gordonem, a znając przeszłość Caldwella dowiedział się, że w tym właśnie budynku mieszkał kiedyś, gliniarz, który zajmował się sprawą jego ojca. Po krótkiej wymianie ciosów, Wrath jest przekonany o swojej sile i nie obawia się Gordona i jego ludzi, którzy czekają na zewnątrz. Batman jednak chciał by to zwycięstwo należało do policjantów, dlatego to im pozwala na dokończenie sprawy. Kiedy zbroja Caldwella jest już bezużyteczna, bez problemów ten zostaje aresztowany. Po tej akcji jeden z policjantów, który nigdy nie był fanem Bat-rodziny dziękuje bohaterowi za jego pomoc.
Kilka dni później. W ciemnym zaułku nietoperze atakują uciekającego chłopaka. Po chwili pozostaje po nim tylko czapka. W międzyczasie komisarz Gordon odwiedza w więzieniu Blackgate Caldwella, którego informuje, że na nowo otworzył sprawę jego ojca i odkrył winnych, którzy już i tak dawno leża w grobach. Taka sprawiedliwość nie interesuje Cadwella. Cały czas marzy o tym by zabić Gordona i wszystkich jego ludzi oraz Batmana, a pomóc mu w tym może Ogilvy…
Jeśli z utęsknieniem wyczekiwaliście na powrót historii z Wrathem po miesięcznej przerwie na Villans Month to nie mam dla was dobrych wieści. Oczywiście w
Detective Comics #24
otrzymaliśmy zakończenie historii z Warthem, ale nie jest to w najmniejszym stopniu poziom jaki sugerowałyby wcześniejsze numery.
Znaczna część historii to starcie Batmana i Wratha. I jest to walka bardziej na sprzęt. Najpierw ten powietrzny a później na zbroje. Czyżby ktoś zbytnio zachwycał się Iron Manem? Poznajemy też motywy działania Caldwella, co oczywiście żadnym zaskoczeniem nie jest, jeśli wcześniej znaliśmy tę postać. Na koniec zaś mamy glinę, który pod wpływem ostatnich wydarzeń zmienia swój stosunek do Batmana.
Kiedy rozpoczęła się historia z Wrathem miałem nadzieje, że ten łotr zagości na dłużej. Po jej zakończeniu mam nadzieje, że już nie będę musiał go więcej oglądać, ale jak sugeruje końcówka twórcy mają co do niego inne plany. Być może już jako kompletny psychopata pozbawiony swojej firmy będzie to ciekawsze łotr?
Ocena: 3 nietoperki

---