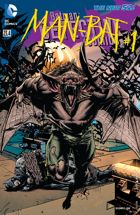 DETECTIVE COMICS #23.4
Tytuł historii: Descent
Miesiąc wydania (okładka): Listopad 2013 (USA)
Data wydania: 25.09.2013 (USA)
Scenariusz: Frank Tieri
Rysunki: Scott Eaton
Okładka: Jason Fabok, Nathan Fairbairn
Kolor: Jeremy Cox
Tusz: Jaime Mendoza
Liternictwo: Steve Wands
Ilość stron: 32
Twoja ocena:

GD Star Rating
loading...
Dr Langstrom oddał się Man-Batowej stronie swojej osobowości. Pozostawiony bez kontroli w świecie bez bohaterów, brutalnie prześladuje swoje ofiary w Gotham City! Jeśli Langstrom go nie powstrzyma… to kto to zrobi?
She-Bat pojawia się jednym z parków w Gotham City budząc postrach wśród zgromadzonych. Na miejscu jest też Kirk Langstrom, który po tym jak zauważa swoją żonę, zażywa swoje serum. Man-Bat niema zamiaru dopuścić by kobieta, którą kiedyś kochał, zabiła więcej niewinnych osób. Teraz, dzięki zmodyfikowanej formule, jest silniejszy i szybszy niż She-Bat i ją pokonuje, dzięki czemu ta zmienia się z powrotem w Francine. Nim jednak Kirk postanawia raz na zawsze rozprawić się z żoną, na miejscu zjawia się policja i ją aresztuje.
Kiedy Batman zniknął Kirk kontynuował prace nad swoją formuła. Cały czas był przekonany, że może ją kontrolować, bo nie jest taki jak Francine. Pod nieobecność Nietoperza stał się nowym obrońcą Gotham City. W odróżnieniu od Batmana, Man-Bat ratując osoby w potrzebie od razu zabijał ich niedoszłych oprawców. Cały czas uważał się za bohatera, ale w oczach policji był równie niebezpieczny jak reszta złoczyńców. Obsesyjnie pragnący udoskonalić swoją formułę Kirk, tak jak przewidziała to Francine, zaczyna się zatracać i w końcu atakuje też policjantów, których uważa za skorumpowanych i zazdrosnych. Jest przekonany, że Gotham potrzebuje go, a nie jakiś nędznych gliniarzy.
Po 30 dniach od rozpoczęcia pisania dziennika Kirk całkowicie traci kontrolę nad Man-Batem i wkrótce atakuje w parku niewinnych mieszkańców Gotham City.
Do tej pory losy Man-Bata śledziliśmy w dodatkowych historiach w
Detective Comics
tym razem Kirk otrzymał cały numer dla siebie. Fabuła
Descent
zbyt zawiła nie jest. Po tym jak Kirkowi udaje się powstrzymać Francine powoli sam zaczyna tracić kontrolę na Man-Batem, który początkowo w pewien sposób zastępował mieszkańcom Gotham City Batmana. Intencje Langstroma były więc dobre, ale nie docenił on skutków ubocznych swojej formuły. Kim więc jest Man-Bat? Złoczyńcą, czy bohaterem? Jednoznacznej odpowiedzi na to pytanie nie da się udzielić.
Twórcom Detective Comics 23.4 udało się uchwycić proces przemiany Kirka. Widząc jego zapiski w dzienniku stopniowo jesteśmy świadkami jak ten traci nad sobą kontrolą, zmienia się również sposób w jaki postrzega rzeczywistość. Jednak pozostaje jeszcze wiele kwestii nieodpowiedzialnych. Skoro Francine została aresztowana, to dlaczego wiedząc, że w Gotham grasuje Man-Bat policjanci nie zatrzymali Kirka? Mimo dość atrakcyjnego starcia Man-Bat konta She-Bat cały ten wątek, który tak pieczołowicie budowany był we wcześniejszych opowieściach, zostaje zakończony zdecydowanie zbyt szybko. Całość wypada jednak dość dobrze i z pełną odpowiedzialnością można stwierdzić, że jest to numer tylko i wyłącznie poświęcony Man-Batowi. Nie ważne są tu żadne nadchodzące Arkham War, czy Forever Evil.
Osoby śledzące wydarzenia z Forever Evil mogą być zaś zaskoczone faktem, że oprócz zniknięcia Batmana i reszty bohaterów, w Gotham City nie widać żadnego większego wpływu Secret Society.
Jeśli podobały wam się wcześniejsze dodatkowe historie z Man-Batem w Detective Comics to nie możecie przegapić tego numeru.
Ocena: 3,5 nietoperka

---