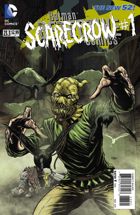 DETECTIVE COMICS #23.3
Tytuł historii: City of Fear
Miesiąc wydania (okładka): Listopad 2013 (USA)
Data wydania: 18.09.2013 (USA)
Scenariusz: Peter J. Tomasi
Rysunki: Szymon Kudrański
Okładka: Jason Fabok, Nathan Fairbairn
Kolor: John Kalisz
Liternictwo: Dezi Sienty
Ilość stron: 32
Twoja ocena:

GD Star Rating
loading...
Zobacz nowe Gotham oczami Stracha na Wróble! Arkham Asylum pozbawione człowieczeństwa – to wszystko czego pragnął Strach na Wróble!
Gotham City zostało podzielone na kilka dystryktów, którymi rządzą najwięksi złoczyńcy. Jeden z ludzi Stracha na Wróble przykuwa uwagę Mr. Freeze'a, po to by Crane mógł z nim porozmawiać. Okazuje się, że wkrótce złoczyńcy mogą się spodziewać konkurencji ze strony więźniów z Blackgate.
Strach na Wróble w towarzystwie Hudsona, który odtajał po tym jak zamroził go Mr. Freeze, kontynuuje swoją wędrówkę po Gotham City, aż dociera do biblioteki gdzie rezyduje Riddler. Także i jego ostrzega przed potencjalną wojną pomiędzy Arkham Asylum a Blackgate. Edwarda takie sprawy w ogóle nie interesują i zamierza pozostać neutralny bo to gwarantuje przeżycie. Sugeruje jednak, że należy obawiać z Bane'a.
Po wizycie u Riddlera Strach na Wróble postanawia odwiedzić Poison Ivy. Po drodze zostaje zaatakowany przez kuzyna Hudsona, który pracował jako strażnik w Blackgate, i który został zaatakowany przez swojego kuzyna gdy ten był pod wpływem gazu Stracha na Wróble. Nafaszerowany venom strażnikowi nie udaje się wyrównać rachunki, gdyż w ostatniej chwili dopada go Killer Croc. Wykorzystując okazję Strach na Wróble przekazuje mu wiadomości, zapewniając, że to do niego pierwszego się zgłasza. Killer Croc ma jednak na głowie własne plany i wraca do kanałów, gdzie czekają jego towarzysze.
W rozmowie z Poison Ivy Strach na Wróble nie może sobie pozwolić na swoje manipulacje, dlatego od razu przychodzi do rzeczy i do wniosków do jakich doszedł. Mianowicie ich główny problem stanowi Bane. Wiedząc jak Pameli zależy na roślinach, które potrzebują przecież światła, zdradza jej że pod Blackgate ukryty jest specjalny generator, który władza wykorzystuje by trzymać w lodzie złapanych Talonów. Takie źródło zasilania pozwoliłoby w czasie, kiedy w wyniku działania Secret Society panuje wieczny mrok, zapewnić zwycięstwo w nadchodzącej wojnie.
Po zakończeniu swojej misji Strach na Wróble pozbywa się Hudsona, bo teraz kiedy ma za sobą Secret Society oraz armię szaleńców, to po wygranej wojnie Gotham City będzie jego.
Jedne historie wchodzące w skład Villains Month skupiały się na orginach bohaterów w innych w ogóle nie było praktycznie nawiązań do Forever Evil, a
City of Fear
stanowi wprowadzenie do
Forever Evil: Arkham War
. Jeśli więc nie śledzicie wszystkiego co związane z Forver Evil, to wiele rzeczy z tego numeru może być nie do końca jasnych.
Rysunki Szymona Kudrańskiego doskonale oddają panujący w Gotham City klimat. Miasto pogrążone w ciemnościach i pozbawione prądu, a na ulicach i pod nimi rządzą najwięksi złoczyńcy. Zastrzeżenie można mieć jednak do detali a zwłaszcza do wyglądu takich postaci jak Poison Ivy.
Jeśli interesują was działania Secret Society i ich wpływ na Gotham City oraz zbliżająca się wojna pomiędzy łotrami, to ten numer powinniście przeczytać. W innym wypadku śmiało możecie go odpuścić.
Ocena: 3,5 nietoperka

---