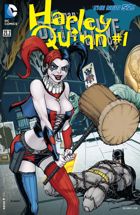 DETECTIVE COMICS #23.2
Tytuł historii: Harley Lives
Miesiąc wydania (okładka): Listopad 2013 (USA)
Data wydania: 11.09.2013 (USA)
Scenariusz: Matt Kindt
Rysunki: Neil Googe
Okładka: Chris Brunham, Nathan Fairbairn
Kolor: Will Quintana
Liternictwo: Taylor Esposito
Ilość stron: 32
Twoja ocena:

GD Star Rating
loading...
Czy dr Harleen Quinzel nie była szalona, kiedy zakochała się w Jokerze w Arkham Asylum, później na pewno coś się jej pomieszało! Dowiedz się więcej o czasie, który Harley spędziła ze swoim ukochanym panem J. i zobacz co wciągnęło ją w takie kłopoty, że została "zrekrutowana" do Suicide Squad!
Zeszłej nocy. Harley Quinn została wykopana z Suicide Squad, wszyscy supebohaterowie gdzieś zniknęli, dlatego ukochana Jokera postanowiła powrócić do Gotham City i do swojego starego życia.
Wiele lat wcześniej. Harley dorastała w rodzinie, której daleko było do ideału. Nikt przed nią nie ukończył studiów. Marzeniem matki było wygrania telewizyjnego talent show, a ojciec nie wierzył, że jego córka wyrwie się z rodzinne piekła. Harley dopięła swego ukończyła studia z wyróżnieniem i zdobyła posadę w najbardziej prestiżowym szpitalu w Gotham. Jednak praca ze zwykłymi osobami potrzebującymi psychiatry nie stanowiła dla nie żadnego wyzwania, postanowiła więc udać się do Arkham Asylum. Wreszcie mogła pracować z osobami, przy których najlepsi specjaliści w Gotham już się poddali. Jednak żeby do nich dotrzeć postanowiła spróbować niezwykłych metod. Zmieniła swoją fryzurę i imię by móc przebywać razem z nimi. Od samego początku też coś zaiskrzyło między nią i Jokerem i aż do dnia w którym szaleniec wepchnął ją do kadzi z chemikaliami nie wiedziała kim naprawdę chce być. Od tej chwili była już wolna. Napadła na dziewczyny wracające z treningu hokeja na trawie i zabrała im rajstopy, spodenki ukradła biegaczce, a top prostytutce. Mając pełny strój była w pełni gotowa na szaleństwo i czerpanie z życia pełną ręką.
Trzy dni wcześniej. Harley w przebraniu policjantki rozdaje dzieciakom gry, a później odwiedza komendę policji ze sporą dawka dynamitu. Oglądanie wybuchu nie sprawia jej już jednak tyle radości co kiedyś.
Teraz. Harley dzwoni do Joe i prosi go by ten zaktualizował oprogramowanie w grach, które rozdała. Wszystkie zaczynają wybuchać, a u boku Harley zjawia się Deadshot, który informuje ją, że Suicide Squad ich potrzebuje, a oni potrzebują drużyny.
Jeśli podoba wam się nowy origin Harley Quinn w New 52, to śmiało możecie dać temu numerowi wyższą ocenę. Wtedy nie będzie wam przeszkadzać kąpiel w chemikaliach. Dodanie do biografii Harley dysfunkcyjnej rodziny naprawdę do oryginalnych pomysłów zaliczyć nie można. Wygląda na to, że większość łotrów miała nieszczęśliwe dzieciństwo. Trudno też jest zaakceptować fakt, że popularni złoczyńcy mogą robić w mieście co im się podoba, a policja w ogóle nie interweniuje.
Harley Lives można niewątpliwie pochwalić za rysunki Googe'a, który potrafi oddać naturę niebezpiecznej i zarazem pociągającej Harley, która wie jak spustoszyć Gotham City.
O ile jestem fanem Harley, którą znamy z Batman: TAS, gdzie po raz pierwszy się pojawiała, to już ostatnie jej poczynania w ramach Suicide Squad nie zainteresowały mnie. Ten numer nie zmienił mojego zdania na ten temat, ale jeśli podoba wam się nowa wersja Harley Quinn, to śmiało możecie po niego sięgnąć.
Ocena: 2,5 nietoperka

---