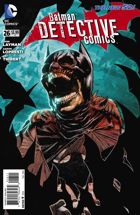 DETECTIVE COMICS #26
Tytuł historii: Crown of Fear
Miesiąc wydania (okładka): Luty 2014 (USA)
W sprzedaży od: 04.12.2012 (USA)
Scenariusz: John Layman
Rysunki: Aaron Lopresti
Okładka: Jason Fabok i Tomeu Morey
Kolor: Blond
Tusz: Art Thibert
Liternictwo: Jared K. Fletcher
Ilość stron: 32
Twoja ocena:

GD Star Rating
loading...
Batman pracuje nad powstrzymaniem roju zmienionych genetycznie zabójczych nietoperzy, jak i She-Bat i innych osób zamienionych w bat-ludzi.
Grupa nastolatków ignorując tablice ostrzegawcze wchodzi do jaskini nietoperzy. Na miejscu oprócz latających ssaków i wielu kości zastają jeszcze kogoś.
Rosnąca fala zniknięć wśród mieszkańców Gotham oraz tajemnicze nietoperza sprawiają, że Batman bliżej przygląda się całej sprawie. Odpowiedzi na nękające go pytanie chce uzyskać od Kirka Langstroma.
Batman szybko namierza Man-Bata, ale pokonanie go nawet z wykorzystaniem sonicznych gadżetów nie jest proste. W końcu jednak Bruce'owi udaje się dotrzeć do Kirka, który przyjmuje ludzką formę. Langstrom wyjaśnia mu, że znowu stał się potworem by powstrzymać swoją żonę, która okazała się korporacyjnym szpiegiem. Teraz zaś swoją krwią zainfekowała całe stado nietoperzy, które jest jej absolutnie posłuszne. Kirk nie jest wstanie jej pokonać, ale przygotował specjalne serum z krwi Francine, które pozwoli zmienić ją w człowieka.
Batmana zgadza się na współpracę z Kirkiem, ale żeby mieć pewność, że ten nie zmieni się w Man-Bata wstrzykuje mu środek uspokajający. W jaskini bohaterowie odnajdują Francie, która teraz jest Królową nietoperzy. Krwiożercze bestie atakują Kirka i przedzierają się przez jego kombinezon w wyniku czego ten opuszcza serum które przygotował. Nic nie jest jednak stracone, bo jak się okazuje Bruce wstrzyknął Kirkowi serum, które ten przygotował dla Francine, a nie środek uspokajający. Wiedział bowiem, że przez grubą skórę She-Bat igła by się nie przebije, ale ostre kły Man-Bata już tak. W ten sposób Batman rozwiązał jeden problem. Francine znowu przybrała ludzką formę, ale pozostaje jeszcze sprawa Man-Bata. Jednak tak jak poprzednio Bruce'owi udaje się dotrzeć do Langstroma. Następnie dwójka naukowców zostaje zabrana przez Batmana do Arkham Asylum.
Po powrocie do Wayne Manor Bruce odkrywa, że Catbird jest niezadowolona, że nie zabrał jej na ostatnią akcję.
Kolejny rozdział związany z historią Man-Bata jest po prostu nudny. Wątek ten powinien się zakończyć, kiedy wyszła prawda na temat Francine. Teraz niestety zabójcze nietoperze, którymi włada żona Kirka to przesada. Rozciągnięcie tej historii i dodanie konkretnego zakończenie było zbędne. Przez to losy Langstromów przestały mnie kompletnie obchodzić. Batman co prawda zachował się tak jak na niego przystało. Czyli mimo wszystko zrealizował własny plan, ale biorąc pod uwagę jak długo Man-Bat i She-Bat terroryzowali miasto, wszystko za szybko i stosunkowo za prosto udało się bohaterowi.
O wiele ciekawiej zapowiada się kolejna opowieść, która ukaże się na łamach Detective Comics. Przedsmak Gothopi mamy na ostatniej stronie i naprawdę taka wariacja na temat Gotham może być świeżym powiewem, który na pewno nie zaszkodzi Batmanowi.
Ocena: 3 nietoperki

---