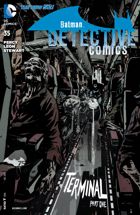 DETECTIVE COMICS #35
Tytuł historii: Terminal, Part 1
Miesiąc wydania (okładka): Grudzień 2014 (USA)
W sprzedaży od: 01.10.2014 (USA)
Scenariusz: Benjamin Percy
Rysunki: John Paul Leon
Okładki: John Paul Leon; Cliff Chiang; Becky Cloonan
Kolor: Dave Stewart
Liternictwo: Jared K. Fletcher
Ilość stron: 32
Twoja ocena:

GD Star Rating
loading...
W pierwszym rozdziale dwuczęściowej historii autorstwa gościnnych twórców scenarzysty Bena Percy'ego i rysownika Johna Paula Leona, wizyta Bruce'a Wayne'a na lotnisku w Gotham zmienia się w makabryczne przedstawienie dla Batmana, kiedy pojawia samolot pełen martwych pasażerów. Co się stało – i co Bruce Wayne może z tym zrobić?
Początek jesieni w Gotham jest niezwykle deszczowy. By naładować akumulatory Bruce Wayne postanawia na kilka dni wyrwać się z miasta i odpocząć.
Na lotnisku kontrolerzy z wieży nie mają kontaktu z jedną z maszyn. Samolot awaryjnie ląduje wbijając się w jeden z terminali. Kiedy Bruce dowiaduje się z jakiego powodu jego odrzutowiec nie mógł wystartować postanawia przyjrzeć się całej sprawie. Okazuje, że wszyscy obecni na pokładzie pasażerowie nie żyją. Kapitanowi cudem udało się wylądować, ale to była ostatnia rzecz jakiej dokonał. Podejrzewając zagrożenie biologiczne Batman sugeruje obsłudze lotnika wprowadzenie kwarantanny. Tuż po zamknięciu lotniska w wiadomościach wyemitowane zostaje nagrania eko-terrorysty, który przyznaje się do ataku i ostrzega, że wraz z otwarciem samolotu wkrótce liczba ofiar wzrośnie.
Treści jak na pierwszą część historii jest naprawdę nie wiele. Praktycznie opis numeru zdradza wszystko. Mamy samolot z martwymi pasażerami i tajemniczą chorobę. Czyżby był to numer z wampirami? Taka myśl może się nasunąć wśród osób oglądających serial
Wirus
(
The Strain
). Biorąc pod uwagę, że to Batman jako pierwszy rozszczelnienił kokpit samolot, i tym samym dopuścił się do zagrożenie życia niewinnych ludzi, to nie było to mądre posunięcie. W takich sytuacjach po bohaterze oczekujemy bardziej ostrożnych działań. Jednak czy rzeczywiście mamy do czynienia z atakiem biologicznym, to dopiero okaże się w kolejnym numerze.
Większa część numeru to przede wszystkim rysunki. Doskonale oddają nie tylko jesienną, pełną deszczu pogodę w Gotham, ale także samą katastrofę samolotu. Chociaż oczekiwałem czegoś bardziej rozbudowanego, to sama historia wzbudziła moje zainteresowanie, i stanowi przyjemną odmianę od standardowych historii.
Ocena: 4 nietoperki

---