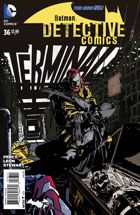 DETECTIVE COMICS #36
Tytuł historii: Terminal, Part 2
Miesiąc wydania (okładka): Styczeń 2015 (USA)
W sprzedaży od: 05.11.2014 (USA)
Scenariusz: Benjamin Percy
Rysunki: John Paul Leon
Okładki: John Paul Leon; Francis Manapul
Kolor: Dave Stewart, John Paul Leon
Liternictwo: Jared K. Fletcher
Ilość stron: 32
Twoja ocena:

GD Star Rating
loading...
W drugiej części "Terminal", wysiłki Batmana, by zatrzymać zarazę na lotnisku w Gotham nie idą zgodnie z planem!
Według doniesień medialnych podejrzany o atak terrorystyczny Magnus Magnuson najprawdopodobniej ukrywa się we wschodniej Europie. Kiedy Batman się o tym dowiaduje postanawia skontaktować się ze starym przyjacielem.
Na Białorusi Dick Grayson używa różnych metod by zmusić złapanego mężczyznę do rozmowy. Musi jednak przerwać swoje obecne zadanie, gdyż Bruce ma do niego pilną prośbę.
Na lotnisku dowództwo przejmują specjaliści od chorób zakaźnych. W pierwszej kolejności odizolowani mają zostać wszyscy, którzy weszli na pokład samolotu. Batman w tym czasie odwiedza kontrolera lotów, gdyż pragnie dowiedzieć się wszystkiego na temat feralnego lotu.
Grayson przestaje się bawić z przetrzymywanym mężczyzną. Już nie jest dla niego priorytetem dowiedzenie się gdzie jest skradziony pluton, teraz pragnie wiedzieć gdzie ukrywa się Magnuson. Po wyrwaniu facetowi zęba bez znieczulania, dostaje odpowiedź, która kieruje go do klubu nocnego Mińsku.
Po tym jak Batman dowiaduje się, że w samolocie dwóch żołnierzy eskortowało ciało zmarłego kolegi, domyśla, że to ono jest źródłem wirusa.
W Mińsku Dick Grayson dociera do kobiety, z którą spotyka się Magnuson. Tym razem wykorzystuje swoje uwodzicielskie umiejętności i dowiaduje się, że Magnus jest obecnie na lotnisku w Gotham, i że w jego organizmie jest antidotum na śmiertelnego wirusa.
W samolocie, dowodzący akcją specjalista z wydziału chorób zakaźnych odkrył sprawdza ciało żołnierza. Na miejscu pod przykrywką jednego z jego ludzi jest także Magnuson, który nie ma zamiaru dopuścić by ktoś pokrzyżował jego plany. Na szczęście do akcji włącza się także Batman, który szybko go nokautuje terrorystę i pobiera próbką jego krwi.
Następnego ranka Bruce Wayne wreszcie wylatuje na wakacje, a szef ochrony lotniska, który również był zainfekowany i obecnie przechodzi kurację otrzymał o bohatera prezent, o którym marzył, bilet w jedną stronę na Hawaje.
Takich historii brakuje w obecnych Bat-tytułach. Zbyt często twórcy starają się tworzyć wręcz epopeje.
Terminal
to opowieść, przy której nie jest wymagana znajomość ostatnich wydarzeń z uniwersum DC, wypada tylko wiedzieć o obecnej roli Dicka Grayson, który przestał być Nightwingiem i zaczął pracę dla tajnej agencji. Tym samym jest to bardziej uniwersalna historia.
W odróżnieniu od pierwszej części, tym razem dzieje się znacznie więcej, można nawet zarzucić, że przy takim układzie w Detective Comics #36 dzieje się aż za dużo. Nie tylko na bieżąco śledzimy wydarzenia z lotniska, ale także przenosimy się na do Białorusi, gdzie działa agent Grayson. W bardzo trafny sposób Benjamin Percy wykorzystuje postać Dicka, który w ostatnim czasie nie odgrywa żadnej roli w głównych historiach z Batmanem. Okazuje się jednak, że Bruce'owi cały czas może się przydać pomoc przyjaciela, a bez swojego bohaterskiego stroju Grayson wcale nie jest mniej skuteczny.
Jako, że wprowadzonych zostaje wiele nowych informacji, to zakończenie nadchodzi zbyt szybko, a postać terrorysty wydaje się za słabo rozwinięta. Pewne rzeczy przy tak dokładnym wprowadzeniu powinny zostać dokładniej wyjaśnione.
Historia Terminal zdecydowanie wyróżnia się od tego, do czego w ostatnim okresie przywykli czytelnicy Detective Comics. Częściej powinno się publikować tego typu jedno lub dwuczęściowe opowieści, których akcja rozgrywa się w bliżej nieokreślonym czasie. Takie oderwanie od wielkich wydarzeń, których w ostatnim czasie jest zbyt wiele sprawia że taką stosunkową mniejszą historię czyta się zupełnie inaczej. Kiedy już poznajemy zakończenie, to jeszcze pamiętamy co wydarzyło się na początku.
Ocena: 4,5 nietoperki

---