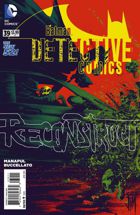 DETECTIVE COMICS #39
Tytuł historii: Anarky, Part 3
Miesiąc wydania (okładka): Kwiecień 2015 (USA)
W sprzedaży od: 04.02.2015 (USA)
Scenariusz: Brian Buccellato
Rysunki: Francis Manapul
Okładki: Francis Manapul; Yuko Shimizo; Dave Johnson
Kolor: Brian Buccellato
Liternictwo: Jared K. Fletcher
Ilość stron: 32
Twoja ocena:

GD Star Rating
loading...
Czy Batman położy kres Anarky'emu raz na zawsze? Czy mieszkańcy Gotham City pozwolą mu chociaż spróbować?
Po tym jak Lonnie został postrzelony jego stan jest poważny, a winą za to zostaje obarczony Batman. Ten jednak specjalnie się tym nie przejmuje i chce jak najszybciej rozwiązać całą sprawę związaną z dzieciakami. W tym celu potrzebna jest mu pomoc Bullocka. Ze względu, że podejrzanym jest Sam Young, Harvey nie przekazał zdjęć do analizy obawiając się, że dowody mogą przepaść. Sprawą zainteresował się jednak Batman.
Bohaterowie udają się do opuszczonego budynku w górach, gdzie zostają zaatakowani. Harvey zostaje ranny, a Batmanowi udaje się pokonać zwolenników Anarky'ego, których maski jak się okazuje wykorzystywały technologię Mad Hattera. Na miejscu uwagę Bruce'a przykuwa również portret rodzinny, na którym jest Jervis Tetch.
W międzyczasie z celi, przez Anarky'ego i jego zwolenników, zostaje uwolniony Szalony Kapelusznik. Ich zamiarem nie jest jednak wypuszczenie go na wolność, ale zabicie.
Początek numeru nie jest zbyt obiecujący. Cały ten wątek z wariactwem na ulicach Gotham spowodowanym przez działania Anarky'ego jest zbyt naciągany, jak i obarczenie Batmana za postrzelenie Lonniego. Czy nikt sobie nie przypomniał, że Nietoperz nie używa broni? Również jeśli uznamy, że maski d Anarky'ego zostały wyposażone w sprzęt Mad Hattera, to źle to świadczy o Batmanie, który przegapił tak ważny trop. Może to jednak po części tłumaczyć zachowania mieszkańców Gotham.
Dalej jest ciekawiej, ale i tak większość miejsca poświęcono akcji. Chociaż dowiadujemy się, że Anarky'ego łączy z Mad Hatterem sprawa sprzed lat, to szczegóły cały czas pozostają nieznane. Tu trzeba jednak przyznać, że odkrywanie przeszłości Tetcha stanowi najlepszy element historii i na tym postać Szalonego Kapelusznika, może tylko zyskać.
Detective Comics #38 pozostawia niedosyt, bo warstwa graficzna tak jak zawsze od duetu Buccellato/Manapul jest na najwyższym poziomie, dzięki czemu wyczuwa się atmosferę grozy i chaosu panującego w mieście, ale pod względem fabuły czegoś brakuje.
Ocena: 3,5 nietoperka

---