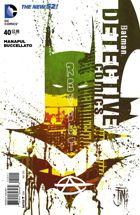 DETECTIVE COMICS #40
Tytuł historii: Anarky, Conclusion
Miesiąc wydania (okładka): Maj 2015 (USA)
W sprzedaży od: 04.03.2015 (USA)
Scenariusz: Brian Buccellato
Rysunki: Francis Manapul
Okładki: Francis Manapul; Jenny Frison; Brian Stelfreeze
Kolor: Brian Buccellato
Liternictwo: Jared K. Fletcher
Ilość stron: 32
Twoja ocena:

GD Star Rating
loading...
Anarky rządzi! Czy Batman może ocalić Gotham City przed samym sobą?
Anarky pragnie zabić Jervisa Techa. Do tego nie zamierza dopuścić Batman, który rzuca się na złoczyńcę.
Zgodnie z informacjami od Alfreda, Bullock jest co raz bliżej znalezienia nadajnika, który wysyła sygnał do masek rozdanych przez Anarky'ego. Policjant musi się śpieszyć, bo sytuacja w Gotham jest co raz gorsza. W porę udaje mu się znaleźć stary kapelusz Mad Hattera i zatrzymać sygnał.
Batman domyślił się już tożsamości złoczyńcy, którym jest Sam Young. Mężczyzna chciał pomścić śmierć swojej siostry, która była pierwszą Alicją Jervisa. Kiedy system go zawiódł, postanowił na własną rękę wymierzyć sprawiedliwość.
Lonnie Machin zostaje wypisany ze szpitala, a wśród swoich rzeczy ma maskę Anarky'ego.
W rozmowie z Alfredem Bruce wyjaśnia, że Sam Young stworzył personę Anaky'ego by zemścić się na Techu i Lesterze oraz policji Gotham, a cała "rewolucja" miała ukryć jego osobiste motywy.
Kolejna historia duetu Buccellato/Manapul wizualnie zachwyca przez cały czas, ale pod względem treści ponownie rozczarowuje. Zakończenie sugeruje, że tytuł historii powinien brzmieć raczej "Mad Hatter" a nie "Anarky". Tak właściwie to nie wykluczone, że jeszcze o osobie Anarky'ego usłyszymy, ale następnym razem może to być Lonnie Machin.
Po mocnym początku kolejne części opowieści obniżały pułap i najsłabszy okazał się finał stanowiący banalne zakończanie. Okazało się, że nie ma w tej historii nic wartego zapamiętania, a tym bardziej do zaoferowania. Na choć odrobinę szczegółów zdradzających jak też Youngowi udało się tak wszystko zaplanować, nie ma co liczyć. Pod przykrywką olśniewającej grafiki z dodatkiem brutalności kryła się prosta historia o zemście jakich wiele.
Ocena: 3 nietoperki

---