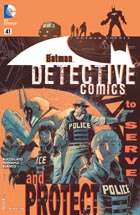 DETECTIVE COMICS #41
Tytuł historii: Reunion, Part One
Miesiąc wydania (okładka): Sierpień 2015 (USA)
W sprzedaży od: 10.06.2015 (USA)
Scenariusz: Brian Buccellato, Francis Manapul
Rysunki: Fernando Blanco
Okładki: Francis Manapul; Patrick Gleason, John Kalisz
Kolor: Brian Buccellato
Liternictwo: Jared K. Fletcher
Ilość stron: 32
Twoja ocena:

GD Star Rating
loading...
Po wydarzeniach z "Endgame", przygotuj się na jazdę z GCPD po zupełnie nowym mieście! Harvey Bullock dowodzi grupą zadaniową Bat, ale jakie są jego obowiązki i czy można mu ufać? I jakie powitanie czeka jego nową partnerkę, Renee Montoyę?
Kiedy Gotham potrzebowało Batmana, Jim Gordon zdecydował się wziąć na swoje barki te zadanie. Nie działa jednak sam ale wspiera go cały zespół. Jednak mimo to walka ze zbirami oznacza ryzyko.
Trzy tygodnie wcześniej. Komisarz Sawyer nie zezwala Harveyowi Bullockowi na poszukiwania Batmana, gdy ten cały czas nie wierzy w jego śmierć.
Dwa tygodnie wcześniej. Maggie prosi Jima by ten postarał się przekonać Harveya do udziału w zespole Batmana.
Tydzień wcześniej. Bullock cały czas nie może dostosować się do nowej sytuacji. Martwi go też brak Gordona oraz cały plan Bat-robota. Dopiero rozróba w barze pozwala gliniarzowi oderwać się od zmartwień. Później Montoya próbuje się dowiedzieć, czemu Harvey nie chce dołączyć do tworzonego zespołu Batmana. Policjant nie ma jednak zamiaru mieć cokolwiek wspólnego z podróbką Batmana. Renee ma jednak nadzieje, że informacja o tym, kto będzie krył się pod maskę sprawi, że Bullock zmieni zdanie.
Obecnie. Na miejscu wybuchu po akcji Batmana zjawia się Bullock i reszta zespołu. Policjant jest światkiem jak Batman ma poważne problemy w pokonaniu złoczyńców.
Tydzień wcześniej. Montoya cały czas nie rezygnuje i obiecuje, że pomoże przywrócić Yip do służby. Ostatecznie Harvey zgadza się zostać niańką Bat-robota, ale pod warunkiem, że Renee pomoże mu w poszukiwaniu prawdziwego Mrocznego Rycerza. W międzyczasie podczas rozmowy telefonicznej Nancy Yip, która teraz zajmuje się ochroną, zleca komuś brudną robotę.
W pierwszej części historii
Reunion
tak naprawdę nie wiele jest Batmana i detektywistycznego śledztwa. Całość skupia się na Harveyu Bullocku i jego rozterkach, czy dołączyć do nowego zespołu, który ma działać z nowym Batmanem, którym jest Jim Gordon.
Fanów rysunków duetu Buccellato/Manapul należy ostrzec, że w przypadku Detective Comics #41 za warstwę graficzną odpowiada Fernando Blanco. Wizualnie więc numer odbiega od tego do czego ostatnio przyzwyczaiła nas seria.
W numerze nie brakuje faktów z życia policjanta i tak naprawdę jest to tylko wstęp do czegoś większego i ciekawie robi się dopiero, gdy dowiadujemy się, że Nancy Yip jest w coś najwyraźniej nielegalnego zamieszana.
Nowe rozdanie w GCPD i utworzenie oddziału wspierającego Batmana otwiera szereg możliwości. Bardziej policyjne historie, to coś czego potrzeba i być może to otrzymamy. Detective Comics #41 może nie porywa, ale ma potencjał i intrygującą historię, która zachęca do sięgnięcia po następny numer.
Ocena: 4 nietoperki

---