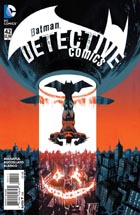 DETECTIVE COMICS #42
Tytuł historii: Partnerships
Miesiąc wydania (okładka): Wrzesień 2015 (USA)
W sprzedaży od: 01.07.2015 (USA)
Scenariusz: Brian Buccellato, Francis Manapul
Rysunki: Fernando Blanco
Okładki: Francis Manapul; Dann Hipp
Kolor: Brian Buccellato
Liternictwo: Wes Abbott
Ilość stron: 32
Twoja ocena:

GD Star Rating
loading...
Zupełnie nowy Batman, stara się znaleźć swoje miejsce w Gotham City! Ale jak poradzi sobie ze swoimi już i tak napiętymi relacjami z GCPD?
Jim Gordon ma co raz poważniejsze problemy. Bandyci skutecznie go unieruchamiają, ale kiedy elektromagnetyczna strzała nie trafia w cel wycofują się.
Na komisariacie komisarz Sawyer oświadcza, że wszyscy gliniarze muszą być w cyrku by zapewnić ochronę VIPom. Część policjantów po ostatniej akcji z udziałem Batmana żartuje, że będą musieli także jemu zapewnić ochronę. Nie mogąc dłużej tego słuchać Harvey opuszcza salę. Po chwili dołącza do niego Montoya, której także nie podobają się niektórzy gliniarzy i chciałaby wiedzieć, czy nie są skorumpowani.
Później Harvey w rozmowie z Yip dzieli się swoimi podejrzeniami co do Renee, która być może pracuje dla wydziału wewnętrznego.
Jeden ze zbirów, którzy chcieli załatwić Batmana trafił do szpitala, ale jego stan jest na tyle poważny, że nie można go przesłuchać, a co gorsza jego przyjaciele z La Morte planują dokończyć swoją robotę.
W nocy Harvey zostaje obudzony przez telefon od Jima, który pragnie się spotkać i pogadać. Przy okazji Bullock zauważa telefon Yin i niedobrane połączenia z jednego numeru. Gordona niepokoi fakt, jak postrzegany jest przez gliniarzy, ale nie mają więcej czasu na pogaduszki bo obowiązki wzywają.
Podczas gdy Batman namierza członków La Morte, Bullock prosi Montoyę w ramach przysługi o sprawdzenie numeru z którego dzwoniono od Yip. Na dachu jednego z budynków Jim jest gotów by zająć się przeciwnikami. Nie przewidział jednak, że znalazł się dokładnie tam, gdzie chcieli. Woda z wież ciśnień skutecznie zalewa Batmana. Chociaż jego strój jest szczelny to w połączeniu z bronią elektromagnetyczną skutecznie sprawia, że Jim traci kontrolę na strojem i spada z budynku. Policjant nie ma zamiaru się poddać i skoro jego przeciwnicy chcą bójki to ten ma zamiar im ją zapewnić, nawet bez robot-stroju.
Wsadzenie Jima Gordona w robo-Batmana wcale nie było takim dobrym pomysłem. Jak na razie nowy Batman sprawia więcej kłopotów niż pożytku. Kilku zwykłych zbirów do wynajęcia nie tylko ma pomysł jak go unieszkodliwić, ale także potrafią go zaciągnąć w pułapkę. Sprzęt się więc nie sprawdza i gliniarskie doświadczenie Gordona także nie funkcjonuje.
Kilka pobocznych wątków związanych z ukrytymi planami Yip, czy też podejściu gliniarzy do nowego Batmana mogą zainteresować. Tego typu otoczka wypada lepiej niż główny wątek. Całość w gruncie rzeczy śledzimy z perspektywy Harveya Bullocka, przez co Batman wydaje się tu być drugoplanowym bohaterem i naprawdę można się zastanowić, czy nie lepiej w tym mechanicznym stroju sprawdziłby się jakiś inny gliniarz. Momentami przykro jest patrzeć jak tak stary wyga jak Gordon daje się załatwić paru zbirom, których Bruce pewnie by powstrzymał w przerwie pomiędzy złapaniem Jokera i pokonaniem Bane'a.
Nowy Batman na razie najlepiej udowadnia, że Batmanem może być tylko Bruce Wayne oraz że mechanicznych strój oprócz pewnych zalet ma też liczne wady. Ma on potencjał, ale tak jak 42. numer Detective Comics ten potencjał nie jest w pełni wykorzystany.
Ocena: 3,5 nietoperka

---