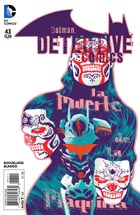 DETECTIVE COMICS #43
Tytuł historii: Deals
Miesiąc wydania (okładka): Październik 2015 (USA)
W sprzedaży od: 05.08.2015 (USA)
Scenariusz: Brian Buccellato
Rysunki: Fernando Blanco
Okładki: Francis Manapul; Emanuela Lupachino i Tomeu Morey
Kolor: Brian Buccellato
Liternictwo: Wes Abbott
Ilość stron: 32
Twoja ocena:

GD Star Rating
loading...
Batman i jego nowy zespół ścigają grupę złodziei w Gotham City, ale ci są bardzo blisko stworzenia nowej broni, która sprawi, że znacznie trudniej będzie ich zatrzymać!
Nim zjawia się wsparcie Batman rozprawił się z dwoma napastnikami. Trzeciemu udało się jednak zbiec i skraść źródło zasilania batstroju. Jego odzyskanie jest priorytetem dla wydziału gdyż urządzenie te można wykorzystać do stworzenia bomby. Na szczęście, kiedy złodzieje je włączą to będzie można je namierzyć.
Po sprawdzenie telefonu Yip, Montoya odkryła, że z tego numeru wysłano plan rozsadzenie gości w cyrku, gdzie nie zbraknie ważnych osób.
Zbir, któremu udało się zbiec przekazuje skradziony źródło zasilania Córce Jokera.
W międzyczasie Harvey ucina sobie szczerą pogawędkę z Yip, która chociaż przyznaje się do przekazania poufnych informacji, to jednak twierdzi, że nie wie co się wydarzy w cyrku. Policjanci odkrywają także związek gangu La Morte z rodziną Falcone.
Po ostatnich odkryciach Harvey prosi Jima o pomoc w zabiciu Nancy.
Transport złapanych członków La Morte zostaje zaatakowany. Jim otrzymuje też dobre wiadomości. Namierzono skradzione źródło zasilania, ale teraz napędza ono wielkiego Jokerbota.
Wydawało się, że cała opowieść podąża w bardziej poważną tematykę. Tak niestety nie jest, o czym najlepiej świadczy pojawienia się wielkiego Jokerbota. Patrząc na Gordona można stwierdzić, że bez tej napakowanej technologicznie zbroi jest mu łatwiej. Wcześniej nie mógł złapać żadnego zbira, a teraz własnoręcznie pokonał dwóch. Cały projekt "nowego Batmana" wypadałoby więc wywalić do kosza, bo kolejny raz pożytku z tego nie ma.
Jak na przedostatnią część historii wiele rzeczy pozostaje niewyjaśnionych. Natomiast ze zwykłych jakby się okazało zbirów do wynajęcia nagle zrobili się najlepiej opłacani profesjonaliści, którzy wykonują dwa zlecenia dla Córki Jokera i rodziny Falcone, tym samym na scenie pojawili się nowi gracze.
O tym, że Nancy Yin jest zamieszana w coś nielegalne wiadomo było od dawana, ale kiedy dowiaduje się o tym inni policjanci to o czym myśli Harvey, o zabiciu swojej partnerki. W takich przypadkach można się zastanowić czy cała ta opowieść będzie miała jakiś sens.
Po obiecującym początku im dalej tym gorzej i wszystko zapowiada, że lepiej już nie będzie.
Ocena: 3 nietoperki

---