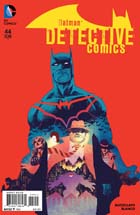 DETECTIVE COMICS #44
Tytuł historii: Goodbyes
Miesiąc wydania (okładka): Listopad 2015 (USA)
W sprzedaży od: 02.09.2015 (USA)
Scenariusz: Brian Buccellato
Rysunki: Fernando Blanco
Okładki: Francis Manapul; Cliff Chiang
Kolor: Brian Buccellato
Liternictwo: Wes Abbott
Ilość stron: 32
Twoja ocena:

GD Star Rating
loading...
Córka Jokera zdradza swoje plany dotyczące pozbycia się Batmana i jego oddziału – i może to się okazać śmiertelne dla Gordona, Bullocka i Montoyi!
Harvey próbuje się skontaktować z Yip, ale ta wie, że po tym co zrobiła dla pieniądzy od Falcone nie będzie już powrotu.
Batman rozpoczyna walkę z wielkim roboto-Jokerem sterowanym przez Córkę Jokera. Sytuacja nie jest tak prosta i Jim musi też ratować radiowóz z Harveyem, Montoyą i Yip, która zostaje uwięziona i postanawia zrobić coś dobrego i ostrzega bohaterów, że w cyrku dojdzie do tragedii. Chociaż Renee chciałaby ją przesłuchać i dowiedzieć się kogo jeszcze przekupił Falcone, to Harvey nie dopuszcza do tego. Rzuca zapaloną zapalniczkę na rozlane paliwo i doprowadza do wybuchu samochodu, w którym była Nancy.
Bullock domyślił się, że celem rodziny Falcone jest zabicie gliniarzy, którzy dziś sprawdzają zabezpieczenia w cyrku. Natychmiast rusza z Montoyą pozostawiając Jima samego w walce z roboto-Jokerem. Na szczęście ten z pomocą Juli odkrywa słaby punkt nowej zabawki Córki Jokera. Doprowadza do przegrzania robota i tym samym powstrzymuje ją.
Bullock i Montoya w porę docierają do cyrku, a po chwili dołącza do nich Batman. Ze swoim sprzętem nie ma problemu z znalezieniem zabójców. Błyskawicznie nokautuje ludzi wynajętych przez Stefano Falcone, który chciał wyeliminować wszystkich gliniarzy, którzy odmówili współpracy.
Jak się okazuje Harvey pomógł sfingować śmierć Yip i teraz ta w ramach programu ochrony świadków może zeznawać przeciwko Falcone, a nową partnerką Bullocka zostaje Montoya, która zawsze ceniła jego umiejętności.
Przygoda duetu Buccellato/Manapul z "Detective Comics" dobiegła końca i niestety kończy się w takim stylu, że czytelnik z radością przywita nowych twórców. W ostatniej historii rola Francisa Manapula ograniczała się już tylko do okładek, a scenariusz kuleje jeszcze bardziej. Cała budowana przez kilka numerów intryga zostaje rozwiązana w mgnieniu oka. Batman, który miał wielkie problemy z pokonaniem zbirów teraz załatwia ich bez żadnego wysiłku. Do tego wszystkiego mamy wielkiego roboto-Jokera. Dobrze, że chociaż Jim zrobił porządek z Córką Jokera i dobitnie podsumował do jakiej ligi ją zalicza, ale cały czas zastanawiać może jak komuś takiemu udało się tak wiele osiągnąć. O roli Stefano Falcone też nie warto wspominać.
Pod okiem Buccellato/Manapula "Detective Comics" bardziej skupiało się na gliniarskich opowieściach. Wraz ze zmianą Batmana otworzył się szereg innych możliwości, ale o ile pomysł wyjściowy był interesujący, to o sposobie w jakim to poprowadzono i jak chociażby zakończono wątek z detektyw Yip lepiej jak najszybciej zapomnieć. Rozterki Gordona były dobre na początek, ale wystawienie go do walki z wielkim robotem to już był wyraźny sygnał, że twórcy nie mają pomysłu co dalej robić z nowym bohaterem Gotham.
Ocena: 2,5 nietoperka

---