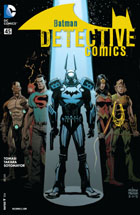 DETECTIVE COMICS #45
Tytuł historii: Of Giants and Men
Miesiąc wydania (okładka): Grudzień 2015 (USA)
W sprzedaży od: 07.10.2015 (USA)
Scenariusz: Peter J. Tomasi
Rysunki: Marcio Takara
Okładki: Andrew Robinson; Bill Sienkiewicz
Kolor: Chris Sotomayor
Liternictwo: Wes Abbott
Ilość stron: 32
Twoja ocena:

GD Star Rating
loading...
Nowa epicka historia się rozpoczyna gdy super duet w skład którego wchodzą scenarzysta Peter J. Tomasi i rysownik Marcio Takara zabierają nowego Batmana na jego pierwszą misję z Justice League! Gdy Jim Gordon zostaje poproszony przez Justice League by rozwiązać serię tajemniczych masowych morderstw, musi odwrócić uwagę od Gotham City i wypróbować swoją siłę charakteru z największymi herosami na świecie!
W Pune w Indiach woda na stadionie doprowadza do śmierci grupy osób i wypadnięcia ich oczu.
W Gotham City, Bruce Wayne przegląda stare rodzinne zdjęcia i prosi Alfreda by opowiedział mu o rodzicach. Lokaj musi przerwać swoją opowieść, kiedy pod drzwiami rezydencji zjawia się Justice League. Bohaterowie są zdesperowani dlatego mimo, że znają stan Bruce'a, to chcą się jeszcze raz przekonać, czy nie będzie w stanie im pomóc. W tym celu Wonder Woman wykorzystuje swoje lasso by sprawdzić czy gdzieś tam w głębi jest Bruce, którego potrzebują. Rozmowa nie pozostawia złudzeń, Bruce'a, którego Liga potrzebuje nie ma.
Jim Gordon nie ma chwili odpoczynku, kiedy próbuje się odprężyć szybko otrzymuje telefon z informacją o nowym zagrożeniu.
Mad Hatter przejął kontrolę nad myśliwcami F-15. Z pierwszym Batman daje sobie radę, a w powstrzymaniu pozostałych pomaga mu Justice League. Po złapaniu Mad Hattera, Jim udaje się na spotkanie z superbohaterami. Chociaż Gordon uważa, że to nie jego liga, to kiedy dowiaduje się, że chodzi o jego detektywistyczne umiejętność, to nie może odmówić. Wszyscy bohaterowie zostają teleportowani w górski rejon, gdzie odkryty został wielki szkielet.
Nowa ekipa twórców, scenarzysta Peter J. Tomasi i rysownik Marcio Takara, zabiera Jima Gordona w nowe rejony. "Detective Comics #45" praktycznie tylko stanowi wprowadzenie do głównego wątku. Dlatego cała sprawa z Mad Hatter wydaje się tylko wrzucona po to, by pokazać jakąś akcję. O ile ten wątek jest przeciętnie, to lepiej wyszło spotkanie Ligi z Bruce'em, naprawdę widać jak martwią się o niego, ale nie ma wątpliwości że wszystko się zmieniło.
Motywy związane z Indiami i wielki szkielet, które w drobnym stopniu zasygnalizowano, naprawdę intrygują. Może być naprawdę ciekawie, zwłaszcza, że będzie to pierwsza współpraca Jima z Justice League. Co prawda do samego zaangażowania Gordona można się przyczepić, bo czy nie ma innych bohaterów z którymi współpracowała Liga i którzy znają się na detektywistycznej robocie, jak chociażby Grayson, czy Drake. Zastanawiać może także fakt, czy decyzja należy tylko do Gordona, bo przecież jako Batman korzysta ze wsparcia specjalnego oddziału GCPD. Scenarzysta nie popisał się motywując zaangażowanie Jima, ale niewątpliwie otwiera to szereg możliwości. Jak odnajdzie się doświadczony policjant w gronie superbohaterów, o tym przekonamy się w następnych numerach.
Ocena: 3,5 nietoperka

---