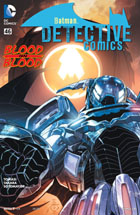 DETECTIVE COMICS #46
Tytuł historii: Blood on Blood
Miesiąc wydania (okładka): Styczeń 2016 (USA)
W sprzedaży od: 04.11.2015 (USA)
Scenariusz: Peter J. Tomasi
Rysunki: Marcio Takara
Okładka: Danny Miki i Romulo Fajardo jr.
Kolor: Chris Sotomayor
Liternictwo: Wes Abbott
Ilość stron: 32
Twoja ocena:

GD Star Rating
loading...
Po raz pierwszy od czasu kiedy został Batmanem, Jim Gordon opuścił Gotham City. Ale nie jest sam! Zrekrutowany przez Justice League, Gordon wykorzystuje swoje detektywistyczne umiejętności, by pomóc Supermanowi, Wonder Woman i największym bohaterom na świecie, rozwiązać sprawę morderstwa tajemniczej istoty z supermocą.
W Himalajach Batman wraz z Justice League bada kości, nieznanej istoty, co z wykorzystaniem supermocy bohaterów nie jest takie trudne. Odkrywa, narzędzie zbrodni, a także jaskinię z drugim kościotrupem. Po chwili bohaterowie zostają zaatakowani przez nieznanego stwora i tylko Gordonowi i Cyborgowi udaje się uciec z jaskini.
Batman domyśla się, że kościotrupy, które znaleźli należały do pary, która spodziewała się dziecka. Samiec był ranny i samica zabiła go by przeżyć. Następnie po urodzeniu dziecka, gdy nie było już pokarmu popełniła samobójstwo, by dziecko miało co jeść. W wyniku całego procesu wytworzona została też ciekła substancja niczym mleko matki, którą można też uzyskać z oczu ludzi.
Tworząc hologram samicy Batman i Cyborg odwracają uwagę stwora i uwalniają pozostałych bohaterów, a Jim kołysanką usypia stwora, którego ziemska atmosfera powoli zabija.
O ile poprzednia część historii zwiastowała coś interesującego, to ten numer nie pozostawia złudzeń, że mamy do czynienia ze słabym zapychaczem przed "Robin War".
Wrażenie jakie pozostawia historia Tomasiego jest takie by jak najdalej trzymać się od "Detective Comics". Jest to jeden z tych numerów nad którym nie warto poświęcać czasu ani tym bardziej zastanawiać się nad jakimś sensem, bo go tu nie znajdziemy. Współpracując z Jimem Justice League wychodzi na kompletnych nieudaczników, którzy nie potrafią rozwiązać banalnej sprawy. Gordon niczym koroner sprawdza szczątki i chociaż dedukcji tu nie brakuje, to nie ma w tym żadnego powodu dla którego podstawowej analizy nie mogli wykonać pozostali bohaterowie. Chyba rozmiar kościotrupa ich przestraszył, bo gdyby było to ciało zwykłego człowieka, to nie zgłosili by się po pomoc do Jima i sami zbadali by całe otoczenie.
Do fabuły na żenująca niskim poziomie, dostosował się również rysownik Marcio Takara dzięki czemu pod żadnych względem 46. numer "Detective Comics" nie satysfakcjonuje czytelnika, jedyna rzecz warta uwagi to alternatywna okładka z Looney Tunes.
Ocena: 2 nietoperki

---