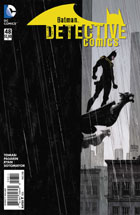 DETECTIVE COMICS #48
Tytuł historii: The Bronze Age: Blood of Heroes
Miesiąc wydania (okładka): Marzec 2016 (USA)
W sprzedaży od: 06.01.2016 (USA)
Scenariusz: Peter J. Tomasi
Rysunki: Fernando Pasarin
Okładki: Andrew Robinson; Timothy Green
Kolor: Chris Sotomayor
Tusz: Matt Ryan
Liternictwo: Wes Abbott
Ilość stron: 32
Twoja ocena:

GD Star Rating
loading...
W wyniku Wojny Robinów i współpracy z Justice League, Jim Gordon liczy na powrót do tego, co on i Batman robią najlepiej: walki z kryminalistami w Gotham City. Ale w cieniu czai się sprawa z przeszłości Jima, która może zadecydować o przyszłości Batmana.
Batman czuwa nad bezpieczeństwem mieszkańców Gotham City, ale w mieście na spokój nie ma co liczyć. Jim znajduje w jednej z alejek ciało mężczyzny przebranego za Jerzego Waszyngtona. Po chwili morderca oddaje strzał w kierunku Batmana, który resztkami sił prosi Daryla i Julię o pomoc.
Morderca ukrywa się w opuszczonym kościele przy cmentarzu, gdzie przechowuje masę twarzy, które może przywdziać i ukryć prawdziwą tożsamość. Rozpoczyna też pracę nad kolejnym więźniem.
W prosektorium Gordon i Bullock sprawdzają ciało zabitego mężczyzny i odkrywają, że zabiła go kula z muszkietu. Ich uwagę przykuwa także dbałość o detale stroju historycznego. Jim musi jednak opuścić nagle swojego przyjaciela i zniknąć tak, jak czynił to zazwyczaj Batman, bo na szczycie Wayne Tower znaleziono kolejne ciało.
Po przerwie na współpracę z Justice League i zamieszania w "Wojnę Robinów", wracamy do Gordona, który jako Batman pilnuje porządku w Gotham City. "The Bronze Age: Blood of Heroes" nie wprowadza nic oryginalnego do całego konceptu byłego komisarza w roli superbohatera ale mamy trupa i tajemniczego mordercę, którego trzeba złapać.
Gordon jako Batman momentami zachowuje się tak, jak Bruce w kostiumie. Nagłe znikanie to znak rozpoznawczy bohatera Gotham, ale czy Jim nie powinien się wyróżniać? Oczywiście zwinność, z jaką skacze po dachach w jego wieku mogą zastanawiać, ale przynajmniej nie widzimy go w robo-zbroi. Popełnia też błędy niczym żółtodziób, ale dostaje też okazję, by zmierzyć się ze sprawą, przy której detektywistyczne umiejętności będą przydatne.
Na wiele większą uwagę zasługuje tu tajemniczy morderca, którego wszystkie wypowiedzi to cytaty Jerzego Waszyngtona i Alana Sheparda (pierwszego Amerykanina w kosmosie). Złoczyńca ukrywający swoje oblicze pod innymi twarzami i pozorujący ofiary na słynne osoby to wręcz idealny materiał na komiksowego łotra. Mamy tajemnicę i aurę grozy, doskonale oddaną przez rysunki Pasarina. Seria "Detective Comics" po dłuższym czasie znów jest warta uwagi.
Ocena: 4 nietoperki

---