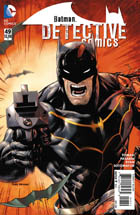 DETECTIVE COMICS #49
Tytuł historii: The Bronze Age: Salt of the Earth
Miesiąc wydania (okładka): Kwiecień 2016 (USA)
W sprzedaży od: 03.02.2016 (USA)
Scenariusz: Peter J. Tomasi
Rysunki: Fernando Pasarin
Okładki: Tyler Kirkham, Tomeu Morey; Neal Adams, Brent Anderson, Laura Martin
Kolor: Chris Sotomayor
Tusz: Matt Ryan
Liternictwo: Wes Abbott
Ilość stron: 32
Twoja ocena:

GD Star Rating
loading...
Nierozwiązana sprawa z czasów służby dopada Jamesa Gordona, kiedy ten zmaga się z nową wolnością którą ma jako Batman. Czy system w który cały czas wierzył, cały czas działa? Czy też jest to jedyna rzecz, która go trzyma?
Podczas gdy Batman zdejmuje z iglicy ciało astronauty, morderca z psem opuszcza miejsce zbrodni. Mając problemy z gapiami Jim decyduje się na dość nietypowy sposób zgaszenia światła sterowca. Strzela w nie batarangiem.
W kostnicy policjantom udaje się ustalić, że tak jak w przypadku poprzedniej ofiary i tym razem zadbano o wszystkie szczegóły historyczne. Łączy je także usunięcie kości oraz to, że reprezentują pierwszych (pierwszego prezydenta i pierwszego Amerykanina w kosmosie). Harvey dostrzega jeszcze jeden wspólny element, w Gotham znajdują się posągi obu historycznych postaci.
Nowy trop zaprowadza Batmana do starej ekspozycji z targów światowych. Przy posągu Alana Sheparda, bohater znajduje mokry osad.
Morderca wybrał już kolejną ofiarę, którą tym razem planuje spalić na stosie. Cały wydarzenia uchwyciły jednak kamery policji i Batman wykonując skok na bungee wkracza do akcji. Nie udaje mu się jednak zatrzymać sprawcy, bo ważniejsze jest uratowanie dziewczyny.
Policjantów cały czas intryguje kwestia kości, ale na razie nie wiedzą do czego to prowadzić. Morderca zaś w kościele w którym się ukrywa ma jeszcze wielu porwanych mężczyzn i już przygotowuje się do kolejnej zbrodni.
O koniu który ciągnie cały zaprzęg zabitych żołnierzy, Batman dowiaduje się natychmiast, ale wie że to może być dopiero początek.
"Detective Comics #49" trzyma poziom poprzedniego numeru. Batman ma okazję wykazać się detektywistyczną robotą i nie korzysta ze swojej zbroi, a działania tajemniczego zabójcy intrygują. Cały czas praktycznie nic nie wiemy, nie wiemy jak wygląda i czemu robi to robi, i to czyni z niego jeszcze bardziej niebezpiecznego przeciwnika. Jeśli dodamy do tego świetne rysunki, a sceny przy płomieniach robią iście palące wrażenie oraz Harveya Bullocka, który ma okazję zabłysnąć swoją wiedzą z zakresu badań kosmosu, to naprawdę otrzymujemy bardzo dobry numer. Do zalet koniecznie trzeba też zaliczyć alternatywną okładką Neala Adamsa, która nawiązuje do okładki "Batman #227", która nawiązywała do "Detective Comics #31".
Taka wersja Gordona w roli Batmana, mogłaby się sprawdzić. Wcale nie potrzebny mu robo-strój i przeciwnik niszczący pół miasta. Szaleniec mordujący ludzi i przebierający je za historyczne postacie to lepszy temat. Akcja rozwija się tu wolniej, ale i spektakularnych scen nie brakuje. Batman po skoku bungee ratujący dziewczynę z płomieni, to robi wrażenie. Nie ma przesytu technologii, a sam Jim nie jest wszystkowiedzący. Cała historia jest bardziej realna, a tego brakowało ostatnio w "Detective Comics". Jeśli zmęczyły was epickie historie, w których wszytko musi być większe, to koniecznie sięgnijcie po "Detective Comics #49".
Ocena: 4,5 nietoperka

---