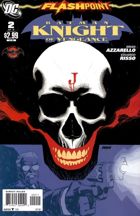 FLASHPOINT – BATMAN: KNIGHT OF VENGEANCE #2
Miesiąc wydania (okładka): Wrzesień 2011 (USA)
W sprzedaży od: 06.07.2011 (USA)
Scenariusz: Brian Azzarello
Rysunki: Eduardo Risso
Okładka: Dave Johnson
Kolor: Patricia Mulvihill
Liternictwo: Clem Robins
Ilość stron: 32
Twoja ocena:

GD Star Rating
loading...
Jim Gordon rozmawia z Oswaldem Cobblepotem przez telefon o Thomasie Wayne'ie, który aktualnie śpi i nie może podejść do słuchawki. Jim odczuwa, że Thomas uważa, że komendant Gotham Security za mało się stara. Żeby uzyskać tropy prowadzące do Jokera Gordon udaje się do Oracle – sparaliżowanej Seliny, która może poruszać jedynie oczami i ustami. Rozmawiają o morderstwie, które wygląda na wykonane przez Jokera, oraz o samochodzie ofiary, który Oracle znalazła nieopodal posiadłości Wayne'a.
Jim wyrusza sam zbadać tę sprawę. Okłamuje Thomasa, że znajduje się gdzieś indziej i odmawia pomocy. Dlatego Batman wyrusza do speluny, w której pojawił się Joker. Okazuje się, że tam Joker otruł jednego z pracowników specjalną pizzą przez co ten teraz nie może przestać się śmiać. Batman nie waha się i skręca mu kark, gdyż nic innego nie można było dla niego zrobić. Następnie Mroczny Rycerz kontaktuje się z Oracle i w ten sposób dowiaduje się o kłamstwie Gordona, oraz o tym, że ślady prowadzą do jego rezydencji.
Jednocześnie Gordon skrada się po domu Wayne'ów i widzi jak Joker celuje do syna Denta. Jim wyskakuje z ukrycia i oddaje celny strzał w stronę Jokera, okazuje się, że była to córka państwa Dentów, specjalnie ucharakteryzowana i przebrana. Nieżywa dziewczynka pada na ziemię. Zrozpaczony Jim pochyla się nad nią i w tym samym czasie Joker od tyłu podcina mu gardło. Psychopatyczny klaun bierze komórkę i nagrywa nią całą sytuację, transmitując wszystko na żywo. Batman odbiera transmisję w swoim samochodzie i wszystko widzi. Chwilę później wbiega już do domu Wayne'ów i krzyczy do Jokera, zwracając się do niego imieniem "Martha".
Niesamowicie smutny, gorzki i brutalny jest świat Thomasa Wayne'a. Tutaj nawet nie ma pozytywnych bohaterów. Czy to James Gordon, czy Selina – wszyscy oni są zagubieni i dręczeni przez własne problemy, jak poczucie niespełnienia oczekiwań przyjaciół. Sam Thomas również dawno utracił złudzenia i wie, że w pewnych przypadkach śmierć jest najsłuszniejszym rozwiązaniem. Co najgorsze, takie przypadki wcale nie są rzadkie.
Dawno nie było tak przybijającego i jednocześnie trzymającego w napięciu komiksu z Batmanem. Historia ta jest pełna emocji, jak chociażby w scenie, gdy Jim ociera Selinie łzy, gdzie dramat bohaterów wręcz czuć na własnej skórze. Oszczędne dialogi tylko potęgują uczucie pustki i bezradności wobec możliwości zmiany świata, w którym toczy się akcja. Całość dopełnia prosta kreska, idealnie odwzorowująca uczucia bohaterów i minimalistyczny ton opowieści. Ponura paleta barw robi jeszcze bardziej potęguje wszystkie te pesymistyczne odczucia, towarzyszące lekturze. A jakby tego jeszcze było mało, zwroty akcji są zupełnie niespodziewane. Prawdziwa tożsamość Jokera okazuje się być naprawdę zaskakująca, aczkolwiek jak najbardziej logiczna. Czytelnik dostaje motyw podobny jak z komiksu Batman/Lobo tyle że tu wszystko utrzymane jest w stuprocentowo poważnym tonie i u nikogo nie pojawi się uśmiech na twarzy.
Twórcy tego komiksu zwyczajnie spisali się na medal i jak na razie w pełni wykorzystali możliwości wykreowania nowego świata. Tak mrocznego, brutalnego i jednocześnie świetnego komiksu z Batmanem nie było od dawna. Lektura obowiązkowa dla każdego fana.
Ocena: 5,5 nietoperka

---