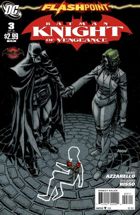 FLASHPOINT – BATMAN: KNIGHT OF VENGEANCE #3
Miesiąc wydania (okładka): Październik 2011 (USA)
W sprzedaży od: 03.08.2011 (USA)
Scenariusz: Brian Azzarello
Rysunki: Eduardo Risso
Okładka: Dave Johnson
Kolor: Patricia Mulvihill
Liternictwo: Clem Robins
Ilość stron: 32
Twoja ocena:

GD Star Rating
loading...
Batman wyważa drzwi i wchodzi do posiadłości Wayne'ów, gdzie znajduje zwłoki Gordona oraz dzieci Dentów. Okazuje się, że dziewczynka jeszcze żyje. Bohater polewa ją palącym proszkiem, który ma dać dziecku większe szanse na przeżycie.

Jednocześnie Thomas przypomina sobie noc, której zginął Bruce. Jego żona nie mogła otrząsnąć się po tym przez wiele miesięcy, a lekarze nie potrafili jej pomóc. Żeby przywrócić uśmiech na twarzy swojej żony Thomas własnoręcznie zabił Joe Chilla. Gdy wrócił, żeby jej o tym powiedzieć, okazało się, że Martha rozcięła sobie usta, tworząc na swojej twarzy karykaturę uśmiechu.
Tymczasem w teraźniejszości Joker wychodzi z ukrycia, zaczyna okładać młotkiem Batmana po czym ucieka z posiadłości. Mroczny Rycerz dogania ją i mówi, że ma szansę odmienić świat na taki, gdzie nie istnieje ani on, ani ona, a Bruce wciąż żyje. Thomas pyta się swojej żony, czy powinien to zrobić, a ona wręcz prosi go, aby jej obiecał, że odmieni świat. Kobieta prosi również, żeby opowiedział jej, co będzie robił Bruce w tamtym świecie. Gdy Martha dowiaduje się, że jej syn pójdzie w ślady ojca i zostanie Batmanem, zaczyna przerażona uciekać. Batman goni ją, lecz Joker przypadkowo wpada do jaskini nietoperzy i ginie od uderzenia o kamieniste dno.
Tak właśnie powinna wyglądać wzorowa historia poboczna każdego wielkiego komiksowego wydarzenia. Sama w sobie stanowi zamkniętą całość, a dodatkowo sprawia, że można doskonale zrozumieć postać. Już nikt nie powinien mieć wątpliwości, dlaczego Thomas Wayne pomaga Flashowi.
Już w drugim numerze autorzy uraczyli nas niesamowitymi zwrotami akcji, stąd oczekiwania wobec ostatniego odcinka były spore. Azzarello i Risso nie zawiedli fanów i w prosty, ale zabójczo wyrazisty sposób zakończyli swoją opowieść. Ostatnie sceny Knight of Vengeance są niczym grecka tragedia. Na scenie stoi dwóch tragicznych bohaterów, których własne przeznaczenie doprowadza do destrukcji. Joker jest zdecydowanie bardziej ludzki, nie tak złowieszczy jak ten, którego znany z regularnego uniwersum, ale w tej opowieści to nawet lepiej, bo dzięki temu cała historia wywołuje o wiele większe emocje.
A wszelkie wzruszające sceny są jeszcze bardziej potęgowane przez niesamowite rysunki Eduardo Risso. Bardzo dobrze potęgują one ponury nastrój opowieści, który osiąga swój szczyt na przedostatniej stronie. Panel z wylatującymi nietoperzami świetnie podsumowuje ten niezwykły, psychodeliczny dramat, jaki zafundowali czytelnikom twórcy.
Szkoda tylko, że nie będzie okazji poznać wcześniejszych dziejów Thomasa Wayne'a. Azzarello i Risso udowodnili, że potrafią świetnie tworzyć nowe światy i szkoda, że więcej historii z tego uniwersum nie poznamy. Tym nie mniej Knight of Vengeance to najlepszy tytuł z Batmanem w tym roku.
Ocena: 5,5 nietoperka
---