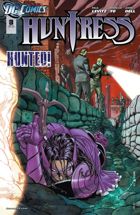 HUNTRESS #3
Tytuł historii: Crossbow at the Crossroads, Part Three
Miesiąc wydania (okładka): Luty 2012 (USA)
W sprzedaży od: 07.12.2011 (USA)
Scenariusz: Paul Levitz
Rysunki: Marcus To
Okładka: Guillem March, Tomeu Morey
Kolor: Andrew Dalhouse
Tusz: John Dell
Liternictwo: Sal Cipriano
Ilość stron: 32
Twoja ocena:

GD Star Rating
loading...
Podążanie za jachtem Morettiego doprowadza Huntress do portu w Pompejach. Chociaż na miejscu szybko zjawia się policja, to ich celem nie jest aresztowanie przestępcy. Po tym jak kryminalista odjeżdża w towarzystwie policjantów na umówione spotkanie, Helena postanawia podsłuchać, o czym na pokładzie jachtu z jedną z kobiet Morretiego rozmawiają skorumpowani policjanci. Dzięki temu dowiaduje się, że Moretti i Ibn Hassan udali się na spotkanie w sprawie "Chairmana", który szuka we Włoszech azylu. W negocjacjach bierze też udział przedstawiciel rządu.
Po telefonicznej rozmowie ze swoim przyjacielem z Neapolu, Allesandro, Helena dowiaduje się "Chairman", czyli ojciec Ibna Hassana pochodzi z Kufra, gdzie sprawuje kontrolę nad wydobyciem ropy naftowej i prawdopodobnie dostarcza Morettiemu młode dziewczyny.


Po namierzeniu miejsca spotkania przestępców w ruinach starożytnej areny walk gladiatorów, Huntrees postanawia wkroczyć do akcji. Po kolei unieszkodliwia kolejnych ochroniarzy. Niestety jeden z nich, solidnie zbudowany arab, dopada ją.
Chociaż spotkanie zostało zakłócone to Moretti zabiera Hassana na swój jacht, a przedstawiciela rządu informuje, że skontaktuje się z nim, kiedy znajdzie odpowiednie i przede wszystkim bezpieczne miejsce, w którym mogłoby dojść do spotkania z "Chairmanem". W nowej lokalizacji za pewne nie zabraknie też towarzystwa pięknych kobiet, które z Afryki przysłał ojciec Ibna.
Kufra. Zamieszki stają się coraz bardziej dotkliwe i "Chairman" decyduje się udać do Włoch, wraz ze świeżą dostawą kobiet dla Morretiego. Władze postanawia zostawić w rękach swojego syna Mustafy.
Przeciwnikiem Huntress okazuje się być Lion of Kufra. Ma on nad nią znaczną przewagę fizyczną, ale mimo to bohaterka się nie poddaje i kiedy napastnik jest bliski uduszenia jej, Helena zadaje mu cios w nerw błędny, po którym groźny przeciwnik od razu pada na ziemie. Po złapaniu oddechu Huntress stwierdza, że nadszedł już czas na Morettiego.
Co prawda cały czas jest zawiedziony, że gdzieś kompletnie zaginęła postać Giuseppe'a, ale cała intryga przygotowana przez Levitza wynagradza nam te braki. Przemyt kobiet to tylko wierzchołek góry lodowej, a w całą sprawę zamieszany jest dyktator z Afryki, który ma szansę na azyl we Włoszech, ze względu na fakt kontroli złóż ropy naftowej. Nie trudno się domyślić, o kogo może chodzić, zwłaszcza, że wspomniana jest Kufra, czyli w rzeczywistości miasto w Libii. Trzeba przyznać, że takie umieszczenie w akcji bardzo aktualnych wydarzeń, sprawia, że całości nie odbiera się tylko i wyłącznie, jako kolejnej historii o superbohaterce.
Ocena: 4,5 nietoperka

---