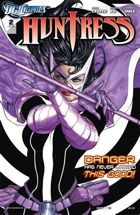 HUNTRESS #2
Tytuł historii: Crossbow at the Crossroads, Part Two
Miesiąc wydania (okładka): Styczeń 2012 (USA)
W sprzedaży od: 09.11.2011 (USA)
Scenariusz: Paul Levitz
Rysunki: Marcus To
Okładka: Guillem March, Tomeu Morey
Kolor: Andrew Dalhouse
Tusz: John Dell
Liternictwo: Sal Cipriano
Ilość stron: 32
Twoja ocena:

GD Star Rating
loading...
Pod osłoną nocy Huntress włamuje się na komisariat policji, by sprawdzić, co się stało w facetami, z którymi wcześniej się rozprawiła. Jak się okazuje ktoś ich zabił nim na miejscu zjawiła się policja. Tuż przed tym jak bohaterka zostaje zauważona przez funkcjonariuszkę, udaje jej się ustalić, że wszystkie ciała zostały zabrane do tego samego zakładu pogrzebowego.
Rano w swojej willi Moretti, zadowolony po nocy spędzonej z jedną ze swoich "dziewczyn", odbiera telefon od jednego ze swoich ludzi, który informuje go o kolejnej przesyłce. Szef zapewnia go, że tajemnicza bohaterka nie sprawi im więcej problemów.
Huntress odwiedza szefa domu pogrzebowego i po tym, gdy wystrzelonymi strzałami przykuwa go do trumny ten zgadza się jej powiedzieć wszystko, co wie.
Następnego dnia Helena spotyka się ze swoimi nowymi przyjaciółmi z miejscowej gazety, którzy ostrzegają ją, że Moretti to bardzo zły facet, który oprócz tego, że zajmuje się handlem kobietami i bronią, to ma też liczne powiązania. Bohaterka stwierdza, że trzeba odciąć go od powiązań.
W nocy Huntress namierza kolejny statek Morettiego na którym zostały przemycone kobiety. Kiedy jeden ze zbirów prowadzi je na ląd, bohaterka wkracza do akcji. Po unieszkodliwieniu kolejnego zbira, zabiera przestraszone kobiety autobusem w bezpieczne miejsce. A na statek Morettiego podrzuca bombę. Tym sposobem kryminalista tej nocy nie będzie mógł zaliczyć do udanej.
Następnego dnia Helena motorem podjeżdża w okolice rezydencji Morettiego, którą uważnie obserwuje. Następnie śledzi kryminalistę aż do pobliskiej mariny, gdzie ten wchodzi na swój jacht. Żeby wiedzieć gdzie się udaje, bohaterka wystrzeliwuje nadajnik GPS.
Pierwszy numer zrobił bardzo dobre wrażenie. Drugi nie jest bynajmniej zły, ale jednak niczym nie zaskakuje. Rysunki Marcusa To cały czas dobrze oddają wygląd bohaterki oraz klimat Neapolu, ale sama historia poniekąd powtarza schemat z poprzedniego numeru. Huntress wkracza do akcji, załatwia złych facetów, ratuje dziewczyny. Nie brakuje, co prawda fajnych momentów, jak ten w domu pogrzebowym. Helena potrafi i walczyć, ale także powiązać pewne elementy łamigłówki, dzięki czemu dowiaduje się, kto też jest jej przeciwnikiem. W Huntress #2 zabrakło jednak wątku pokazującego działania Giuseppe, który miał bardzo mocną końcówkę w poprzednim numerze. Interesy jego szefa ponownie pokrzyżowała bohatera i teraz wiele wskazuje, że to ona kontroluje całą sytuację. Liczę, że kolejny numer pokaże nam Huntress w prawdziwych kłopotach, bo jak na razie wszystko układa się zbyt po jej myśli.
Ocena: 4 nietoperki

---