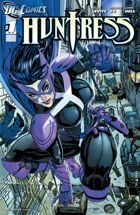 HUNTRESS #1
Tytuł historii: Crossbow at the Crossroads
Miesiąc wydania (okładka): Grudzień 2011 (USA)
W sprzedaży od: 05.10.2011 (USA)
Scenariusz: Paul Levitz
Rysunki: Marcus To
Okładka: Guillem March, Tomeu Morey
Kolor: Andrew Dalhouse
Tusz: John Dell
Liternictwo: Sal Cipriano
Ilość stron: 32
Twoja ocena:

GD Star Rating
loading...
Po przylocie do Włoch Helena Bertinelli już na samym początku zastanawia się ile trupów pozostawi. W nocy w porcie w mającym problemy wywozem śmieci Neapolu Huntress unieszkodliwia ludzi pilnujących kontenera, którym oprócz zamkniętych kobiet planowano przemycić także broń do Gotham City. Po wypuszczeniu kobiet, bohaterka wysadza cały ładunek w powietrze.
Dowiedziawszy się następnego ranka o wydarzeniach z portu pan Morettti nie jest zachwycony. Szybko kontaktuje się z Giuseppe, któremu zleca zajęcie się sprawą nowej bohaterki, a posłańca ze złymi nowinami zabija.
Na spotkaniu z wydawcą lokalnej gazety, który zgodził się z nią spotkać ze względu na kontakty w Daily Planet, Helena dostaje od niego zapewnienie, że zajmą się uratowany kobietami. Mężczyzna jednak jest wciekły, bo mimo, że od miesięcy pisze o handlu kobietami, to nikogo to nie zainteresowało. Wychodząc z biura, bohaterka stwierdzą, że ona nie pozostanie w tej sprawie obojętna.
Po powrocie do hotelu, Helena prosi boya hotelowego o załatwienie pewna przysługę. Chociaż chłopak uważa, że taka prośba z ust pięknej kobiety to prawdziwy wstyd, to jednak wszystko załatwia.
W nocy do pokoju Heleny przychodzi mężczyzna wraz z prostytutką. Bohaterka nie pozwala mu odejść. Szybko kilkoma ciosami powala potężnego faceta. Widząc, co się dzieje przestraszona kobieta wpada w panikę i próbuje zadzwonić do swoich szefów, mimo że Helena zapewnia ją że nie ma zamiaru jej krzywdzić. Ale kiedy to nie wystarcza zmuszono zostaje by za pomocą niegroźnego ciosu uśpić ją.
Huntress szybko namierza osobę do której próbowała dodzwonić się prostytutka. Bez większych problemów rozprawia się z ochroniarzami Afafa i zabiera go ze sobą.
Zawiedziony postawą pokonanych przez Huntress ludzi, wykonujący polecenia Moretttiego, Giuseppe zabija ich.
Huntress ma wyjątkowe szczęście do dobrych miniserii i nie inaczej jest w ty wypadku. Helena chyba jak żadna inna postać nadaje się do tego by umieścić akcję poza Gotham City, a we Włoszech jest niewątpliwie ciekawie. W tym przypadku nie brakuje też odniesień do miarę aktualnych wydarzeń, chociażby problemu śmieci w Neapolu, czy też obecnego premiera Włoch.
Jednak to, co jest najważniejsze to sama historia, która już na samym początku serwuje sporo dobrej akcji, ale nie Lewitz nie zapomina też poruszyć poważniejszych kwestii, czy też wprowadzić drobnym elementów humorystycznych. Jak chociażby przemyślenia boya hotelowego, czy też zastanawianie się Heleny, czy Batmanowi też zdarzają się takie chwile, kiedy nie wszystko idzie zgodnie z planem. Całość jest, więc doskonale wyważona i to stanowi o sile Crossbow at the Crossroads.
Z jednej strony mamy słoneczne niebo nad Neapolem, ale w nocy wychodzi na to, że nie wszędzie jest tak pogodnie. Handel kobietami ma się dobrze, i przy okazji nie ma jak stary sprawdzony handler bronią. Mafia dobrze się zorganizowała, ale pojawienie się bohaterki już na samym początku sprawia im liczne kłopoty. Jednak widząc brutalność i bezwzględność mafijnych bossów, można stwierdzić, że w starciu z Giuseppe Huntress nie będzie miała tak łatwo. Jeśli dodamy zaś do tego wszystkiego rysunki Marcusa To, który naprawdę potrafi uchwycić kobiecość Heleny, ale także jej siłę w walce. Można nawet stwierdzić, że rysunki w pełni odzwierciedlają ducha bohaterki. To Huntress #1 naprawdę pod wieloma względami wypada bardzo dobrze.
Ocena: 5 nietoperków

---