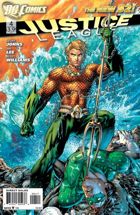 JUSTICE LEAGUE #4
Tytuł historii: Justice League, Part Four
Miesiąc wydania (okładka): Luty 2012 (USA)
W sprzedaży od: 21.12.2011 (USA)
Scenariusz: Geoff Johns
Rysunki: Jim Lee
Okładki: Jim Lee, Alex Sincalair i Scott Williams; Andy Kubert i Alex Sinclair
Kolor: Alex Sinclair i Gabe Eltaeb
Tusz: Scott Williams
Liternictwo: Patrick Brosseau
Ilość stron: 40
Twoja ocena:

GD Star Rating
loading...
Wonder Woman: "We need to get those men out of the helicopters and somewhere safe."
Green Lantern: "I'll get them out of the choppers and to safety. Not to be a good guy like the Flash, but because I want to impress you. Most of what I do is about trying to impress people."
Batman: "What?"
Green Lantern: "No, I… What'd I just…?"
Wonder Woman: "You were touching my lasso."
Green Lantern: "So what?"
Wonder Woman: "It makes you tell the truth."
Green Lantern: "Are you laughing, Batman? At a time like this?"
Victor odzyskuje przytomność, a jego zbroja rozpoczyna kalibrację z ciałem. Podczas ataku jednego z kosmitów, młody Stone automatycznie reaguje atakiem i niszczy napastnika. Chłopiec ze strachem pyta ojca, co z nim zrobił. Ten tłumaczy, że nie chciał dopuścić, aby zginął. Wściekły Victor ucieka ze S.T.A.R. Labs.
Aquaman proponuje przewodzić akcji bohaterów, którzy zebrali się we wspólnym celu pokonania ataku kosmitów. Green Lantern nie godzi się na to, podważając także umiejętności króla Atlantydy. Po chwili grupa zostaje ponownie zaatakowana przez dużą liczbę obcych, jednakże szybko zostają pożarci przez rekiny, a resztą równie szybko zajmuje się Aquaman, który wezwał wcześniej morskie stworzenia do pomocy. Do akcji wkracza nagle wojsko USA atakując także bohaterów, wbrew sprzeciwom pułkownika Trevora.
Victor podczas ucieczki po mieście ratuje kobietę od ataku żołnierzy Darkseida. Jego zbroja automatycznie łączy się z urządzeniem wewnątrz jednego z nich i odkrywa, że najazd ma na celu opanowanie planety oraz przekształcenie wszelkiego życia w kolejnych kosmitów. Po chwili zbroja młodego Stone'a przenosi go za pomocą urządzenia obcego do miejsca, skąd wysyłane są rozkazy.
Bohaterowie próbują odeprzeć atak wojska i odstawić żołnierzy w bezpieczne miejsce. Nagle między nimi pojawia się Victor. Ledwo przytomny informuje bohaterów o swoim odkryciu. Po chwili na miejscu pojawia się sprawca ataku – Darkseid.
Komiks zawiera również:
dane na temat wybranych pracowników S.T.A.R. Labs,
szkice koncepcyjne Flasha na bazie projektów Jima Lee autorstwa Francisa Manapula.
Jedyną zaletą tego zeszytu dla mnie jest scena, w której Aquaman udowadnia Green Lanternowi, że nie jest taki bezużyteczny, na jakiego mógłby dla niego wyglądać. Cała reszta numeru to niestety zbitek szybkich przejść, aby przyspieszyć moment finałowego starcia z Darkseidem (który oczywiście pewnie będzie musiał jeszcze dużo powiedzieć na temat swojego planu…). Dodajmy do tego przesadnie użyty humor i bam – mamy średniaka, który nie wróży dobrze dla kolejnych zeszytów.
Mimo że odświeżone DC miało przynieść powiew czegoś nowego, to czytelnik z numeru na numer czuje się, jakby czytał znowu to samo, tylko podane z inną ekipą postaci w troszeczkę innych strojach. Mam nadzieję, że Johns trzyma dla nas coś jeszcze w zanadrzu i nie jest to tylko czymś, co według niego powinno wywołać reakcję "COOL".
Ocena: 3 nietoperki

---