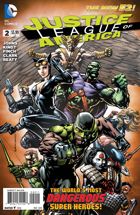 JUSTICE LEAGUE OF AMERICA #2
Tytuł historii: World's Most Dangerous, Chapter Two
Miesiąc wydania (okładka): Maj 2013 (USA)
W sprzedaży od: 20.03.2013 (USA)
Scenariusz: Geoff Johns Matt Kindt
Rysunki: David Finch, Scott Clark
Okładki: David Finch, Juan Jose Ryp
Kolor: Sonia Obock
Tusz: David Finch
Liternictwo: Rob Leigh
Ilość stron: 40
Twoja ocena:

GD Star Rating
loading...
Scarecrow budzi się przywiązany do krzesła w ciemnym pomieszczeniu rozświetlonym tylko wąskim pasmem światła. To co, z początku, okazuje się być niewolą, tak naprawdę jest gościną oraz złożeniem propozycji. Okazuje się, że tajemniczy człowiek w płaszczu, który wcześniej odbił Stracha w drodze do Arkham, zawiera teraz z nim tajemniczy układ. Układ, który zapewni Jonathanowi Crane'owi coś, czego bardzo pragnie.
Siediba A.R.G.U.S. Płk. Trevor wraz z Amandą Waller obserwują operację ciężko rannego Green Arrowa. Waller dowiedziawszy się o Secret Society nakazuje znaleźć i uderzyć na owe stowarzyszenie. Twierdzi, że będzie to idealny test dla nowo powstałej drużyny. Trevor oczywiście protestuje, gdyż nie odbył jeszcze z JLA nawet jednego treningu, a tutaj już ma walczyć z przeciwnikami, o których nic nie wiadomo i do tego na ich terenie. Waller jednak nie przyjmuje tych argumentów i nawet nie chce czekać, aż Quenn odzyska przytomność. Ale wpierw drużynę czeka mały briefing.
Po szybkim zapoznaniu się członków teamu (do którego na razie nie dołączył jeszcze Green Lantern) Trevor oznajmia, że przed akcją czeka ich konferencja prasowa z prezydentem Obamą, w celu przedstawienia światu JLA. Stargirl będzie przemawiać, gdyż jak stwierdził pułkownik: "ludzie ją lubią". Catwoman na razie pozostaje w cieniu oraz będzie nieoficjalnym członkiem drużyny ze względu na jej kryminalną przeszłość.
Kwatera główna A.R.G.U.S. Martian Manhunter wraz z Trevorem odwiedzają nieprzytomnego Olivera. Steve prosi marsjanina, aby ten, spróbował za pomocą telepatii dowiedzieć się czegoś o Secret Society z umysłu Zielonej Strzały. Jedyna informacja, którą udaje się pozyskać to to, że tajemniczy mężczyzna, który wcześniej rozmawiał ze Scarecrowem, przesłuchiwał również Dark Archera oraz to, że goniący Green Arrowa Superman, Batman i Wonder Woman okazali się być androidami sobowtórami.
Kielder forest, Anglia. Śladami ucieczki Green Arrowa podążają Katana, Catwoman, Hawkman, Vibe, Manhunter i płk. Trevor. Nagle pojawiają się przed nimi trzy postacie. Są to androidy Batmana, Supermana oraz Wonder Woman. Przed Justice League of America za chwilę pierwsza walka.
Fabuła się rozkręca. Geoff Johns umie budować napięcie. W drugim numerze dostajemy, jak się wydaje, głównego villaina pierwszej historii. Tajemniczy człowiek w płaszczu jest… hmm tajemniczy. Nie wiadomo do czego mu dokładnie potrzebny jest Scarecrow, ale widać, że ma w głowie jakiś złowrogi plan, którym scenarzysta umie zaciekawić Czytelnika. Podoba mi się Catwoman. Nie przeszkadza jej, że nie jest oficjalnym członkiem drużyny, a wręcz potrafi z tego zażartować. Do tego utrzymany jest klasyczny urok tej postaci, a także spryt. Umiejętnie kradnie dokumenty podczas pocałunku pułkownika Trevora i, jak się wydaje, zaczyna mu współczuć z powodu nieudanego związku z Wonder Woman. Fajny jest też Hawkman, który pełni tutaj rolę typowego osiłka, który najpierw strzela, a potem pyta. Ale najlepszą postacią zdecydowanie jest Martian Mnahunter. W drugim numerze dostajemy backup-ową historię z ostatnim marsjaninem. J'onn jest bezkompromisowy w dążeniu do swoich celów. Dodatkowa historia opowiada jak to naumyślne "wpuszcza" zabójcę do Białego Domu, ryzykując życie personelu, a nawet prezydenta, po to tylko, aby pokazać Obamie luki w jego ochronie. Świetna jest też scena, gdy bada umysł Green Arrowa i bezczelnie pyta Trevora czy chciałby coś, przy okazji, zmienić w umyśle łucznika. Mocne i nieludzkie.
Numer ciut gorszy od poprzedniego, ale nadal bardzo dobry. 5 nietoperków.
Ocena: 5 nietoperków

---