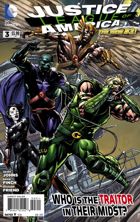 JUSTICE LEAGUE OF AMERICA #2
Tytuły historii: World's Most Dangerous, Chapter Three: The Forest and the Trees; Missing Pieces
Miesiąc wydania (okładka): Czerwiec 2013 (USA)
W sprzedaży od: 08.05.2013 (USA)
Scenariusz: Geoff Johns, Matt Kindt
Rysunki: David Finch, Richard Friend, Manuel Garcia, Dave Beaty
Okładki: David Finch, Juan Jose Ryp
Kolor: Sonia Oback, Jeff Chang
Liternictwo: Rob Leigh
Ilość stron: 40
Twoja ocena:

GD Star Rating
loading...
Mieszkanie Stargirl. Courtney rozmawia z mamą przez telefon o tym jak dobrze poszła jej konferencja prasowa JLA. Stargirl niechętnie przerywa konwersację widząc obok siebie nagle pojawiającą się Amandę Waller. Dyrektor A.R.G.U.S. również zadowolona z dotychczasowego przebiegu kontaktu z publiką, wręcza jej plan dnia na wywiady prasowe oraz listę punktów z kwestiami, które Stargirl ma w tych wywiadach poruszać. Młoda czarodziejka bezceremonialnie dowiaduje się od Waller, że tak naprawdę w drużynie pełni rolę maskotki ze względu na dobry public relations. Oburzona Stargirl grozi odejściem z drużyny, jednak Waller szantażuje ją ujawnieniem informacji o jej ojcu i pociągnięciem go do odpowiedzialności za "rzeczy" które zrobił.
Kielder Forest, Anglia. Bitwa pomiędzy JLA a androidami Batmana, Supermana i Wonder Woman trwa. Roboty nie łatwo pokonać. Odcięta, przez Katanę, głowa WW leży na ziemi, lecz jej ciało wciąż walczy. Superman okłada Manhuntera wyrwanym drzewem. Batman i Hawkman walczą na pięści. Maszyny udaje się dopiero pokonać dzięki niedoświadczonemu Vibe'owi, który używa swoich zdolności do rozczłonkowania przeciwników. Z zażenowaniem przyznaje się, że niedawno to samo, przez przypadek, zrobił z maszyną do chipsów. Po skończonej walce dochodzi jeszcze do zgrzytu między Kataną a Catwoman. Japońska zabójczyni twierdzi, że ona i "jej miecz" nie ufają kotce, do tego drużyna została zaatakowana od razu po przybyciu do Anglii, a więc ktoś musiał przeciwnikom zdradzić cel ich misji. Po chwili napięcia sytuacja zostaje zażegnana przez Marsjanina. Przeszukanie terenu lasu nie przynosi efektu w postaci znalezienia siedziby Secret Society. Na miejscu, drużyna odnajduje jedynie dachowy gont oraz kawałki szyby, które później okazały się być datowanie na wczesny XIX wiek. Teraz trzeba ułożyć nowy plan odnalezienia Secret Society.
Tym planem jest wprowadzenie konia trojańskiego do grupy owych super łotrów. Wybór pada na Catwoman, która cały czas nie jest podana do oficjalnej wiadomości jako członek Justice League of America, do tego posiada kryminalną przeszłość oraz reputację złodziejki, która z pewnością pomoże jej w przeniknięciu do Society. Pułkownik Trevor wpadł na pomysł upozorowania kradzieży marsjańskiego artefaktu, który kiedyś do muzeum podarował Manhunter. Catwoman ma zostać schwytana "na pokaz" przez JLA i przekazana do zakładu Arkham w celu podpytania i nawiązania jakiś kontaktów odnośnie Secret Society. Niewiele brakowało, aby cały ten plan zrujnował Green Arrow, który pojawił się na miejscu w celu powstrzymania Catwoman nie wiedząc o tym, że Kotka współpracuje z JLA.
Po ucieczce (a jakżeby inaczej) Seliny z Arkham prawie od razu na jej drodze stają Signalman oraz Blockbuster, który uderza Kotkę tak, że ta traci przytomność. Utrzymując cały czas kontakt radiowy z Trevorem, Catwoman budzi się przywiązana do tego samego krzesła, do którego był wcześniej przytwierdzony Scarecrow.
Geoff Johns chyba lubi Catwoman. Już w poprzednich numerach Kotka dostawała dobre sceny, ale w tym numerze jest postacią na pierwszym planie. Wydaje się, że bez niej drużyna nie posunęła by się do przodu w celu odnalezienia Secret Society. Catwoman nie tylko jest kluczową postacią w głównej historii, ale także odgrywa ważną rolę w backupie z Marsjaninem. Nawiasem mówiąc – backup jest świetny. Te osiem stron dodatkowej historii podobały mi się bardziej niż główny odcinek. Powtórzę raz jeszcze – Marsjanin w tej serii jest rewelacyjnie napisany. Czekam na kolejne zarysy z przeszłości J'onna oraz jakąś szerszą akcję z nim w głównej fabule.
A sam numer ogółem niezły. Większą treść zajmuje akcja sprawnie rozpisana i narysowana. Postaci są dobrze prowadzone, aczkolwiek po trzech numerach nie przemawia do mnie jedynie charakter Vibe'a. Nie znalazłem jakiejś specjalnej sympatii do młodego bohatera i nie mam ochoty póki co sięgnąć po jego solową serię.
Daję pięć nietoperków. Byłoby niżej gdyby nie backup z J'onnem.
Ocena: 5 nietoperków

---