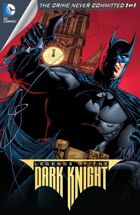 LEGENDS OF THE DARK KNIGHT #3
Tytuł historii: The Crime Never Committed
Data wydania: 21.06.2012 (USA)
Scenariusz: Tom Taylor
Rysunki: Nicola Scott
Okładka: Ethan Van Sciver, Brian Miller (Hi-Fi)
Kolor: Allen Passalaqua
Tusz: Wayne Faucher
Liternictwo: Saida Temofonte
Ilość stron: 23
Twoja ocena:

GD Star Rating
loading...
Batmana i Robin wykorzystują wszystkie swoje detektywistyczne umiejętności, by odkryć brutalną zbrodnią nim ta się wydarzy… ale czy uda im się zdążyć na czas?
Przy komputerze w jaskini Batmana analizuje wydatki niejakiego Mike'a Careya, który właśnie stracił pracę. Mężczyzna nawet nie starał się zatrzeć śladów, że planuje napad.
W nocy Batman odwiedza Mike'a Careya i zabiera go na dach, gdzie dołącza do nich Robin. Bohaterowie wiedzą, że córka mężczyzny jest ciężko chora. Dlatego planował on włamać się do akwarium i ukraść rzadkie ryby. Niby jego plan był nieźle przemyślany. Kupił maskę narciarską by nikt go nie rozpoznał oraz wynajął van, by przewieźć ryby. Jednak cała jego akcja mogłaby się zakończyć nie wesoło. W pierwszym wariancie powstrzymaliby go Batman i Robin w wyniku, czego trafiłby do więzienia. W drugim zaś sprawy przyjęłyby jeszcze gorszy obrót. Mike bowiem nie chcąc nikogo skrzywdzić nie kupił naboi do strzelby. Chciał zastraszyć strażnika, ale nie wiedział, że jest to niezrównoważony były policjant, który został zwolniony ze służby za nadmierne stosowanie siły. Strażnik nie wahałby się zabić Mike'a, i w ten sposób przy próbie kradzieży kilku rybek Carey pozostawiłby swoją rodzinę na pastwę losu.
Dynamic Duo dają Mike'owi dugą szansę. Następnego dnia ma zwrócić strzelbę. W mieście jest już, bowiem zbyt dużo kryminalistów, a lepiej zapobiegać niż leczyć. Po odejściu bohaterów Carey sam musi znaleźć nowy sposób by pomóc swojej córce.
Żeby zapobiec popełnieniu zbrodni wcale nie potrzebni są jasnowidze. Batman sam potrafi wydedukować takie sprawy. Historia The Crime Never Committed udowadnia, że Batman wcale nie potrzebuje jakieś wielkiej sprawy i potężnego złoczyńcy. Czasami działając przy jakby się wydawało się błahej sprawie, nie tylko może uratować życie zdesperowanego mężczyzny, ale także nie dopuścić, by na ulicach pojawił się kolejny kryminalista.
The Crime Never Committed zalicza się do tych przyjemnych opowieści, w których akcja nie jest najważniejsza. Kolejny numer Legends of the Dark Knight udowadnia więc, że cały czas jest miejsce dla historii lekko oderwanych o obecnych wydarzeń z uniwersum DC, w których można pokazać mniej epickie historie, ale równie wciągające.
Ocena: 4,5 nietoperka

---