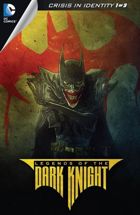 LEGENDS OF THE DARK KNIGHT #4
Tytuł historii: Crisis in Identity, Part 1
Data wydania: 28.06.2012 (USA)
Scenariusz: B. Clay Moore
Rysunki: Ben Templesmith
Okładka: Ben Templesmith
Kolor: Ben Templesmith
Liternictwo: Saida Temofonte
Ilość stron: 23
Twoja ocena:

GD Star Rating
loading...
Crisis in Identity, part 1! Joker ma nikczemny plan, który obejmuje wypranie mózgów bogatych i należących do elit Gotham City mieszkańców i przekonanie ich, że są Batmanem – daje to morderczy efekt!
Mężczyzna w stroju Batmana, domowej roboty, próbuje z kanałów wydostać Killer Croca. Taka głupota może zakończyć się tylko w jeden sposób. Złoczyńca pożera jego głowę.
Na miejscu od razu zjawia się policja. Niestety nie jest to pierwszy taki przypadek. Już kilka osób należących do elit miasta z nieznanych powodów postanowiło w nocy przebierać się za Nietoperza. Wszystkim przyszło za to zapłacić życiem.
Kontynuując swój patrol Batman zastanawia się na całą sprawą. W ciałach ofiar nie znaleziono żadnych śladów narkotyków, czy innych środków. Tymczasem dziennikarze coraz bardziej zastanawiają się, czy Batman przynosi dla Gotham więcej szkód niż pożytku.
Komisarz Gordon co prawda nie lubi polegać na Batmanie, ale zdaje sobie sprawę, że w obecnej sytuacji jest ich jedyną nadzieją. W Wayne Tower, Bruce Wayne kończy spotkanie z przedstawicielem organizacji charytatywnej Brianem Ahearnem.
Policji udaje się ustalić, że wszystkie ofiary zniknęły gdzieś podczas normalnego dnia swojej pracy.
Tymczasem w drodze do domu Brian Ahearne zostaje zatrzymany przez Joker, który składa mu prepozycję na oczyszczenie Gotham ze zbrodni.
Kolejny numer i kolejny scenarzysta, a seria cały czas trzyma wysoki poziom. Tym razem mamy jednak 3-częściową historię tak, więc wiele rzeczy może się jeszcze wydarzyć. Zaczyna się jednak obiecująco, a scena, w której Killer Croc odgryza głowę facetowi w kostiumie Batmana, jest szokująca i porywająca. Rysunki Bena Templesmitha wyglądają jak akwarele, co idealnie wpasowuje się w klimat Crisis in Identity, a na dodatek znowu otrzymujemy opowieść, w której pojawia się Joker.
Ocena: 4,5 nietoperka

---