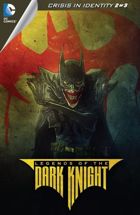 LEGENDS OF THE DARK KNIGHT #5
Tytuł historii: Crisis in Identity, Part 2
Data wydania: 05.07.2012 (USA)
Scenariusz: B. Clay Moore
Rysunki: Ben Templesmith
Okładka: Ben Templesmith
Kolor: Ben Templesmith
Liternictwo: Saida Temofonte
Ilość stron: 23
Twoja ocena:

GD Star Rating
loading...
Dalsza część planu Jokera, który wypiera mózgi wpływowym mieszkańcom Gotham City, które zaczynają uważać się za Batmana.
Joker w przebraniu komisarza Gordona przekonuje przebranego za Batmana Brian Ahearne, że tylko ten może uratować Gotham City. Związany Mad Hatter potwierdza, że Ahearne jest w pełni przekonany, że poradzi sobie z nowym wyzwaniem.
W kryjówce Jokera obecny jest także był zbir, który kiedyś współpracował z Killer Crociem, obawia się, że jego były szef dowie się, że to on zdradził lokalizację jego kryjówki.
Batman znajduje innego ze zbirów Killer Croca. Próbuje się od niego dowiedzieć, gdzie znajduje się kryjówka złoczyńcy. Tymczasem do mieszczącej się w kanałach kryjówki Croca trafił uważający się za Batmana Ahearne. Chociaż złoczyńca nie jest do końca przekonany, że tych fałszywych Gacków podsyła mu Gordona to i tak zamierza zjeść swoją nową ofiarę. Tym razem jednak mu się to nie udaje, bo na miejscu zjawia się prawdziwy Batman. Dochodzi pomiędzy nimi do walki, która zostaje przerwana w chwili, w której Croc rzuca Brianem o ścianę. Batman zmuszony jest jak najszybciej zająć się mężczyzną, z którym kilka godzin wcześniej rozmawiał.
Oglądając wiadomości Jokera jest zawiedziony, że jego nowy pomocnik został uratowany przez Batmana, ale dzięki działaniom Mad Hattera ma pewność, że policja nie ustali, że są w to zamieszani. Po stracie Ahearne klaun ma jednak już nowego kandydata, który pomoże Batmanowi oczyszczać miasta ze ze zbrodni. Tym razem wybór padł na Bruce'a Wayne'a.
Mroczne, lekko kreskówkowe rysunki Templesmitha nadają całej historii atmosferę wszechobecnej grozy, ale także groteski zarazem, co idealnie się łączy z czarnym humorem, którego w tej opowieści nie brakuje. Joker ze sztucznymi wąsami i okularami udający Gordona jest przezabawny. W gruncie rzeczy działania złoczyńcy są bardziej skuteczne niż Batmana, który potrzebował aż trzech dni by namierzyć kryjówkę Killer Croca. Teraz, kiedy Joker wybrał na swojego "Batmana" Bruce'a Wayne'a ten nowy duet może w pełni oczyścić Gotham City z kryminalistów. Tylko na koniec Jokera nie będzie już do śmiechu.
Ocena: 4,5 nietoperka

---