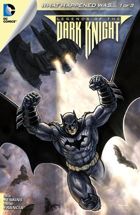 LEGENDS OF THE DARK KNIGHT #30
Tytuł historii: What Happened Was…, Part 1
Data wydania: 27.12.2012 (USA)
Scenariusz: Paul Jenkins
Rysunki: Omar Francia
Okładka: Greg Luzniak
Kolor: Rex Lokus
Liternictwo: Saida Temofonte
Ilość stron: 23
Twoja ocena:

GD Star Rating
loading...
Kiedy Calendar Man i Batman walczą podczas meczu Gotham Knights, sprawy przyjmują bardzo dziwny obrót. Ale kiedy każdy z obecnych na miejscu inaczej zapamiętuje przebieg wydarzeń, czy GCPD uda się ustalić co się wydarzyło?
Przesłuchując świadków detektyw Brian Kelly wie, że każdy inaczej zapamiętuje wydarzenia, w których uczestniczył. Jeden z świadków twierdzi, że wybierając się na mecz baseballowy nie spodziewał się, że zostanie prawie zastrzelony przez jakiegoś świra w kostiumie nietoperza. Inny zaś uważa, że gdyby nie Batman to wszyscy spłonęliby żywcem. Zamiast opinii świadków detektywa interesują tylko konkretne fakty.
Do całego zajścia doszło 4 lipca na stadionie baseballowym. Wszystko było w porządku do czasu, aż na niebie wśród wystrzeliwanych fajerwerków dostrzeżona Batwinga z którego wyskoczył Batman. Część osób nie wiedziało, czy to zaplanowana atrakcja. Nietoperz wylądował na scenie, gdzie od razu zaczął okładać pięściami niczego niespodziewającego się gospodarza wieczoru. Z miejsca, w którym stał jeden ze świadków nie widać było dokładnie co działo na scenie, ale w pewnym momencie zaczęły wystrzeliwać fajerwerki, które jednak nie leciały do góry, ale wprost na zgromadzony tłum. Wybuchła panika. Całe rodziny chciały jak najszybciej uciec ze stadionu.
Po ucieczce część osób postanowiło wrócić by się upewnić, czy nie zostawiono żadnych dzieci. Na miejscu dostrzegli jednak tylko jak Batman walczy z Calendar Manem.
Detektyw Kelly nie jest zachwycony zeznaniami naocznych świadków. Nagrania z kamer także nie są jednoznaczne, a zeznania świadków zbytnio są ubarwione ich opiniami na temat Batmana. Policjant postanawia więc zapoznać się z tym co do powiedzenia ma mężczyzna, który został zaatakowany przez Batmana na scenie. Ten od razu stwierdza, że za wszystko odpowiada Mroczny Rycerz.
Historia What Happened Was… jest naprawdę intrygująca. Batmana jest tu w sumie nie wiele i do końca nie wiadomo, co się tak właściwie wydarzyło. Mamy poniekąd okazję przekonać się jak czuje się policjant wysłuchujący relacji świadków. Każdy widzi co innego i inaczej interpretuje te same wydarzenia. Ważne też są osobiste opinie na temat postrzegania Batmana. Policja ma więc ciężki orzech do zgryzienia. Zazwyczaj czytając opowieści o Batmanie mamy jasność co się dzieje i nie ma żadnych złudzeń, że bohater może komuś zagrażać. Na przykładzie tej historii przekonujemy się, jednak, że nie każdy tak może postrzegać bohatera. Pomysł by pokazać jedno wydarzenie z perspektywy różnych osób nie jest czymś nowym, ale pozwala spojrzeń na pewne sytuacje z zupełnie innej strony.
Jak na pierwszą część historii What Happened Was…, part 1 wypada naprawdę dobrze i zachęca do sięgnięcia po kolejny numer. Jednak czy całość otrzyma tak dobry poziom, o tym dopiero się przekonamy.
Ocena: 4 nietoperki

---